K-12 Environmental Action
In partnership with Denver Public Schools, GSSW researchers are integrating climate action and ecological justice into education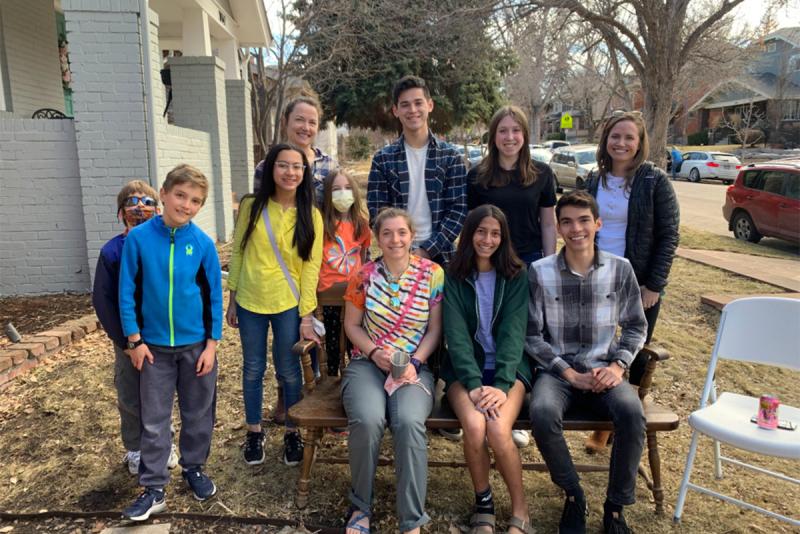 In April 2022, the Denver Public Schools (DPS) Board of Education unanimously passed a student-initiated climate policy that was the first in a U.S. school system. Developed by DPS Students for Climate Action, the policy aligns the district's climate goals with those of the city. Among the goals students proposed is prioritizing sustainability actions in schools and communities that face greater inequity and/or environmental injustice.
The DPS climate policy is the subject of dissertation research by University of Denver Graduate School of Social Work (GSSW) PhD student Colleen Cummings Melton, who is partnering with youth climate activists to conduct a case study of the policy. In a related partnership with DPS, Clinical Associate Professor Sarah Bexell is collaborating with district educators to develop and implement a curriculum that will infuse humane and ecologically minded themes into established K-12 curricula. The overarching goal of both projects is to advance a national movement to integrate climate action and ecological justice into education settings.
Studying Youth Climate Action
Melton's project is a case study for how local action and policy change can create more resilient and regenerative communities. "Projects like this won't stop the climate and ecological crisis tomorrow, but they are a step towards building communities based in ecological care that can survive, and hopefully thrive, in the future," Melton says. "This study will provide a framework for school districts to replicate and build upon to transform education systems through youth-led climate action that promotes ecological and social justice."
Youth participants in the study developed the project's statement of purpose to "empower and integrate student-driven climate justice initiatives and decision-making, both locally and nationally, using DPS for Climate Action as a model to create change that persists and thrives for generations to come." Melton's dissertation is documenting the process and impact of the DPS students' work.
With co-investigator and Institute for Human–Animal Connection (IHAC) Research Associate Erin Flynn, Melton is exploring how engaging in collective action and systems change impacted the youth climate activists and DPS. She is also documenting the barriers and facilitators to mobilizing and creating systemic climate action within DPS. Beginning summer 2023, Melton will conduct individual interviews with participants, including youth climate activists from within DPS, district sustainability staff, teachers, administrators and Board of Education members. She will also collect and analyze a wide variety of archival documents, including climate resolutions from other districts, previous DPS policies related to environment or climate action, testimony and petitions.
Informed by this record, Melton plans to develop recommendations for replicating the climate policy in other districts and distribute her findings to youth climate activists and school districts nationwide. "Organizers can think about schools as an intervention point for climate and ecological action beyond education," she says.
The Grand Challenges for Social Work awarded Melton a 2023 doctoral fellowship to support her research, recognizing the project's potential to influence policies or practices that combat racism, promote diversity or improve equity and meaningfully contribute to the Grand Challenge to Create Social Responses to a Changing Environment. Melton also received a grant from the University's Center for Community Engagement to Advance Scholarship and Learning, which she used to compensate youths engaged in the participatory creation of the project.
"There is so much important organizing and community action that is happening, we have a lot to learn from it," notes Melton, who says she is grateful for the partnership with DPS and its students. "I view research as a tool to scale out what communities are already doing."
Transforming Environmental Education
Bexell says that in the United States, we still educate young people as if there is no global climate emergency. As IHAC's director of humane education and faculty director of the University's Center for Sustainability, she is working to change that.
Bexell began working with DPS at least two years ago as the district was working to make facilities more sustainable. "They came to us [because] they didn't have anyone making sure the curriculum was training our young people in the realities of how much we have to change our society toward a more regenerative future," Bexell says.
As part of the University of Denver Grand Challenges Urban Sustainability Cohort, Bexell and Metropolitan State University of Denver Associate Professor Christina Foust surveyed DPS educators about barriers and facilitators to presenting environmental education in their classrooms. They learned that teachers didn't have the capacity to add subjects to the curriculum. From that survey, 13 teachers signed up for focus groups facilitated by Bexell, Foust and Morgridge College of Education doctoral student Derek Brannon to further understand the challenges to environmental education and guide next steps.
"We want more teachers in DPS to feel comfortable incorporating eco-mindedness in their classrooms," Bexell says. With that goal in mind, she began working with DPS to develop a professional development program, which will launch in April. The district-wide training event will give educators a taste of a broader DPS environmental education training program that will launch in fall 2023.
The more extensive professional development program will prepare teachers from all grade levels and any subject to incorporate eco-minded education into what they're already teaching. Rather than learning an entirely new curriculum, teachers will learn to seamlessly integrate environmental education throughout their lessons as part of the standard curriculum. Importantly, Bexell notes, DPS teachers and curriculum designers have co-created the program.
Following the initial rollout, Flynn will evaluate the program's effects on student attitudes and actions toward themselves, other humans, other species and global ecology. She will also measure student agency and engagement as well as teacher engagement and burnout deterrence.
"Integration of eco-minded education into existing curricula is an innovative approach to meet the needs of current and future students," says Bexell, noting that although the project is currently funded by a University of Denver Public Good Grant and an anonymous donor, additional funding is needed to support and grow the program. "Climate change is life or death. If we don't prepare our teachers and young people for this changing world, more people are going to die due to global climate and environmental change. This suite of trainings will equip educators with humane and ecologically minded tools to empower young people to create a healthy future."