A new GSSW–community partnership is exploring the intersections of social work and collective care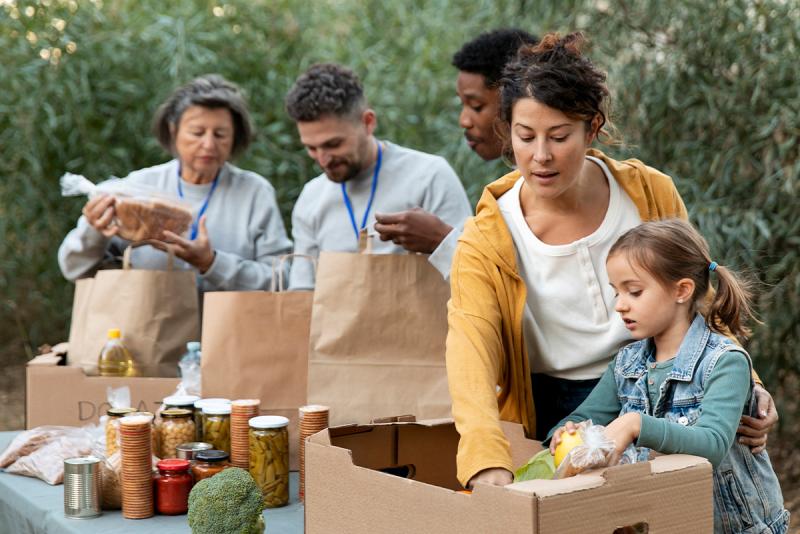 The University of Denver Graduate School of Social Work (GSSW) is exploring the intersections of social work and collective care through a new Mutual Aid Collective comprised of faculty, staff, doctoral and MSW students, alumni and community partners.
"We are imagining and working to create a future where all people have their needs met," says Kimberly Bender, Winn Professor for Children and Youth, who collaborated with GSSW students, staff and alumni to design the program.
Formal systems of care, such as government social safety nets, have long failed people with marginalized identities. The idea for the Mutual Aid Collective emerged during the COVID-19 pandemic, when Bender and her collaborators noted — and experienced — a widespread need for community support among people from all walks of life. Bender and several students began to study mutual aid efforts in Colorado, discussing how social work could learn from mutual aid practices and brainstorming what could emerge next.
"Mutual aid involves neighbors helping neighbors, supporting one another in meeting basic needs," Bender explains. "It also involves a reimagining of the social fabric where we see ourselves in solidarity with others — where meeting someone's needs is meeting our collective needs."
Student Mutual Aid Fellows
A fellowship is a core component of the Mutual Aid Collective. As Mutual Aid Fellows, five MSW students receive stipends to intern with Denver-area mutual aid organizations and meet weekly in a yearlong seminar to contemplate and discuss the intersections between mutual aid and social work. Fellows for 2022–23 are Max Kilby, Georgia Nicklin, Kaleigh O'Reilly, Mckinley Thompson and Jackie Tran.
The fellows aren't graded on the seminar; rather, they help to co-create what they think should be learned, explains Bender, who is co-facilitating the seminar with alum Maveryck Boyett, MSW '20. "We will grapple with complex questions and discover new ones," Bender says. "Because we're open to not knowing, we're going to discover something new."
The fellows intern at three community partners: Lifespan Local (a community center focused on well-being across the lifespan), Angelica Village (a conscious community living space for individuals and families seeking refuge from war or exiting homelessness) and Mutual Aid Monday (a grassroots mutual aid community that cares for people experiencing homelessness).
Learn more about Angelica Village, which was founded by GSSW alumna Renata Heberton, MSW '10.
Read More
Although students are used to having clear roles and expectations in their field internships, for the Mutual Aid Fellowships, "The community partner doesn't have to create anything. The hope is to help students decenter themselves — sometimes it's not about what you want but what the community needs," explains doctoral candidate Zean Dunbar, a member of the collective planning team. As they grapple with ambiguity, fellows have the "space to examine their professional decisions in real time. Ordinarily, you don't have a lot of learning space to think critically about whether your job is doing what you're hoping it does."
Through the fellowship, students contribute their time to increase the organization's capacity and practice the mutual aid values discussed in the seminar, including unlearning individualistic norms of white supremacy culture and capitalism and instead centering equity. The fellows are also developing "a subversive social work toolkit" that will share concrete ways social workers can offer care that centers mutual aid principles, Bender says.
The Mutual Aid Collective and its community partnerships represent GSSW's deep commitment to mutual and reciprocal learning, Bender says. "This initiative expands our community impact through field internships in new ways."
Mutual Aid Research
Because there has been little social work scholarship related to mutual aid and collective care, research is another cornerstone of the collective. Informed by mutual aid organizers from across Colorado, the collaborative is seeking to better understand mutual aid values and practices and explore how mutual aid approaches challenge — and could potentially improve — social work's approach to care.
Doctoral candidate Danielle Littman and several co-authors recently published the first paper from a pilot study of Colorado mutual aid during the early months of the pandemic in 2020; the paper explores the values and beliefs underlying mutual aid efforts.
Learn more about the collective's pilot study of mutual aid during the COVID-19 pandemic.
Read More
More papers from the study are forthcoming on topics such as burnout and social bonds formed during mutual aid. Dunbar is using a future scenarios framework to analyze the data; in a separate project, her dissertation research focuses on care practices, mutual aid and racial formation among Black newcomers in the United States. MSW student Karaya Morris is working on a plan to assess the experiences of fellows and community partners and learn more about how mutual aid principles are relevant to schools of social work.
Collective Care and Social Work
Should social work engage in mutual aid practices and collective care? That is exactly the question the Mutual Aid Collective is striving to answer, Bender says. "Our profession needs to transform," she says. "I'm not confident that we need to be in mutual aid spaces, but we do need to rethink our practices to more flexibly, equitably and humanely meet people's needs."
Among those principles is "seeing ourselves as people with something to give and as people with needs," adds Bender. "We need to step away from overemphasizing our professionalization and instead emphasize being in solidarity with the communities we're trying to support."
Over the past several years, the focus of Bender's research has shifted from quantitative survey and intervention methods to deeper participatory, community-engaged and community-driven work, including studies of peer support programs for youth experiencing homelessness. The focus on peer support was a natural bridge to mutual aid, she says. "Whether we call it peer support or mutual aid, it is necessary because our policies or institutions are not meeting needs or are harmful," Bender says.
Littman urges social workers to lean into collective care by recognizing and removing barriers. "We have to dismantle ideas that people only deserve certain things or put limits on what needs are," Littman says. "Often our role is getting out of the way and getting back to social work values around the dignity and worth of the full person — the value of people as who they are."