Upcoming GSSW public events explore social justice, environmental justice and racial justice topics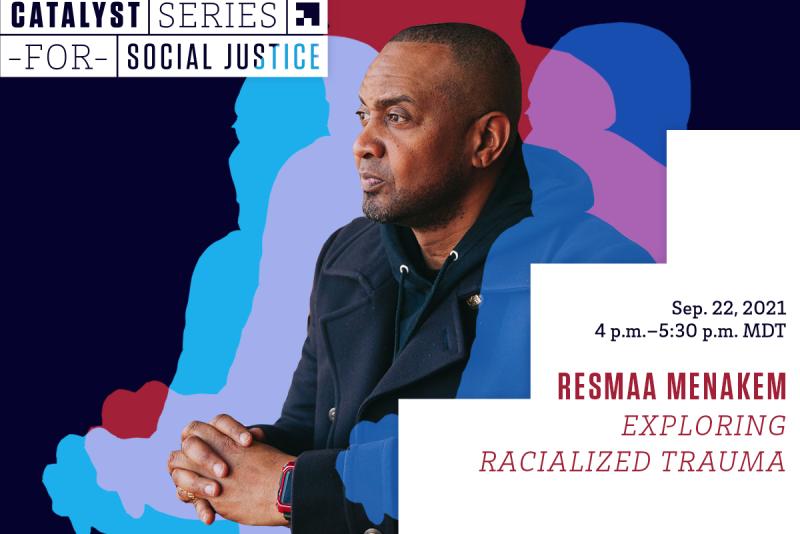 Members of the University of Denver Graduate School of Social Work (GSSW) community engage in social justice advocacy and action. This year's Catalyst Series for Social Justice and other events will help them — as well as others across Colorado and the United States — discover deeper meaning and inspiration through creative expression and the active experience of social justice. We invite you to join us.
"We're serving as a convenor of conversations and explorations of social justice topics — aiming to be a hub for connection, dialog and growth for the entire community," says Director of Community Engagement Trish Becker-Hafnor, noting that each Catalyst event will feature a GSSW faculty member and elevate organizations working in the local community. Catalyst events are free and open to the public, and most will be virtual.
In a virtual fireside chat on Sept. 22, clinical social worker and author Resmaa Menakem will discuss racialized trauma and somatic abolitionism — "a living embodied Anti-Racism practice and culture building that requires endurance, agility, resource cultivation, stamina, discernment, self and communal discipline cultivation, embodied racial literacy and humility," Menakem wrote the book My Grandmother's Hands: Racialized Trauma and the Pathway to Mending Our Hearts and Bodies.
In October, adrienne maree brown — author of Emergent Strategy — will discuss "pleasure activism" and connecting social justice with creative expression. Denver native Kali Fajardo-Anstine — author of Sabrina & Corina — will join GSSW in January 2022 to lead a writing workshop and speak about displacement of communities of color in Denver. In February, the Catalyst Series will feature Sonya Renee Taylor, author of The Body is Not an Apology. The 2021–22 series will conclude in April with an Earth Week event featuring Robin Wall Kimmerer, author of Braiding Sweetgrass: Indigenous Wisdom, Scientific Knowledge and the Teachings of Plants.
Environmental and Racial Justice 
New in 2021, GSSW's Environmental and Racial Justice Series addresses social work's Grand Challenge to Create Social Responses to a Changing Environment. The webinar series aims to catalyze and equip social workers to confront and disrupt environmental racism. "Our focus on social workers for 2021 is intentional, as one focal goal of the grand challenge is to grow the profession's commitment to and action on environmental and ecological justice," says Associate Professor Lisa Reyes Mason, co-lead for the grand challenge.
Recent events included "Disrupting Environmental Racism" featuring panelists Lizeth Chacón, executive director of the Colorado People's Alliance; Ajulo Othow, Esq., founder and CEO or EnerWealth Solutions; and Smitha Rao, an assistant professor at The Ohio State University College of Social Work. Moderated by GSSW alumnus and current University of Michigan PhD candidate Finn Bell (MSW '09), a panel on "Transforming Social Work Education" featured University of North Florida Assistant Professor Yolanda Machado-Escudero and Leah Prussia, an associate professor at The College of St. Scholastica.
The series will continue Oct. 26 with a panel on "Mobilizing Power for Action and Change." "We'll discuss recent directions in environmental justice policy and identify concrete calls for social workers' next steps in this area," says Reyes Mason.
 
Attend the "Mobilizing Power for Action and Change" webinar on Oct. 26, 10–11 a.m. MT.
Register
Continuing Education 
Offered in a virtual format, ongoing GSSW continuing education programs include a social work Practitioner Series focused primarily on clinical practice and a Civic Series, which prepares social workers and other professions with the knowledge and skills to create social change. Post-master's certificates include training in treating trauma, practicing mindfulness, and providing LGBTQ+ affirming care.
With every event GSSW hosts, Becker-Hafnor says, "We're striving to provide a depth of experience and connection. We're moving away from transactional experiences where you attend an event and leave. Rather, how else can you connect and move toward action?" For example, GSSW is launching a Catalyst book club this fall. "We'll provide ways for people to read books by these authors prior to or after the events and connect with one another," Becker-Hafnor says. Also on the horizon for the coming academic year: a series of events and experiences exploring the intersections of mutual aid, community care and the profession of social work.
"We're bringing folks together for conversations that align with the values of our school and advance the movement toward a socially just world," Becker-Hafnor says. "Conversations are happening in our community and events are happening in our world, and people are looking for a space to process, learn and grow. We're providing that space."