Teacher–Scholars Advancing Justice
New 2020–21 GSSW faculty bring expertise in aging, weight stigma, health disparities, decarceration, climate change and clinical practice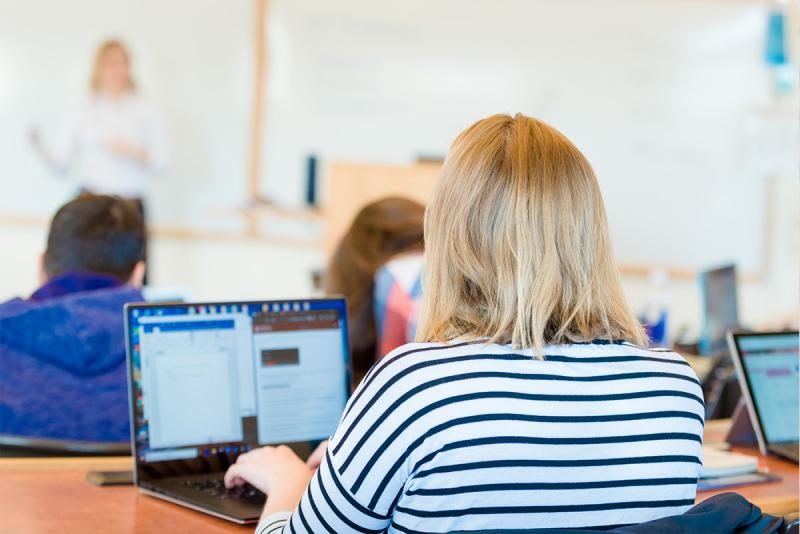 The University of Denver Graduate School of Social Work (GSSW) welcomes six new faculty members in the 2020–21 school year. Although they bring diverse backgrounds and research interests, these scholars share a passion for teaching and a commitment to justice, community-engaged research and public impact.
Amity L. Good, MSW, LCSW
Since graduating from GSSW in 2001, Amity Good spent 19 years in direct clinical practice, using a family systems approach to promote social justice and wellness for families within the health care and child welfare systems. Most recently, she worked at Children's Hospital Colorado in the Center for Cancer and Blood Disorders, where she provided family-centered care for patients and their identified families. "As a pediatric oncology social worker, I would follow a child and their family through the continuum of care from diagnosis through bereavement, providing comprehensive counseling support, care coordination, mandated reports, and crisis and trauma interventions," says Good, a former GSSW adjunct instructor who also worked as a child protection social worker in Scotland and advocated for and coordinated mental health support services for children placed in foster care in Colorado. "These experiences in child welfare expanded my passion for working with children and families within the health care system and the essential promotion of social justice, advocacy and health equity through that work."
As a clinical assistant professor in the Health & Wellness pathway, Good's research and teaching focus includes clinical practices in pediatric health care, trauma-informed care, pediatric caregiver stress, palliative care, health disparities of marginalized groups, and sustainable resiliency of interdisciplinary providers. "GSSW promotes social justice across all of its pathway," Good says. "I appreciate the depth and breadth that GSSW provides to its students."
Erin Harrop, PhD
Erin Harrop earned a PhD from the University of Washington School of Social Work and will join GSSW in January 2021 as an assistant professor. Their research agenda addresses weight stigma as a social justice issue by examining the systemic factors that impact eating disorder patients' access to quality health care; other research interests include adolescent health promotion, substance use, and health care provider communication.
Funded by three National Institutes of Health fellowships, an Academy of Eating Disorders dissertation grant and an Association for Size Diversity and Health research grant, Harrop's dissertation involved a longitudinal study using arts-based, interview and survey methods to examine the experiences of higher-weight individuals with eating disorders. Harrop's current research projects include ongoing analysis for their longitudinal study of patients with atypical anorexia and an analysis of a brief intervention for interprofessional health science students intended to decrease weight bias. (Read more about Harrop's research in a Seattle Times article and in an article by the Huffington Post.)
At GSSW, Harrop will teach MSW foundation practice courses and will pilot a spring 2021 course on weight stigma as an intersectional component of a social justice framework. "I've loved teaching practice courses and relish the opportunity to blend clinical skills, mindfulness work and critical self-reflection into the learning process," says Harrop. "In choosing an academic community, GSSW's emphasis on community-based research really appealed to me. Students seemed eager, curious, passionate, and engaged, and the school's leadership seemed to care about supporting students as scholars, advocates and people. I hope to build a sense of academic homeplace here."
Lisa Reyes Mason, PhD
With a PhD from the Brown School of Social Work at Washington University in St. Louis, Lisa Reyes Mason is joining GSSW this fall as an associate professor. Prior, she served as an associate professor and director of the PhD program in the University of Tennessee College of Social Work, and as faculty director of environment and social development at the Washington University in St. Louis Center for Social Development.
Reyes Mason studies and teaches about climate change as an urgent social justice concern. Her interests include urban green infrastructure, health and financial impacts of weather extremes, and clean energy for all. She co-edited the book People and Climate Change: Vulnerability, Adaptation, and Social Justice and co-leads the American Academy of Social Work and Social Welfare's grand challenge to Create Social Responses to a Changing Environment. "My ongoing research is highly interdisciplinary, often bridging social work with climatology and engineering to study social justice aspects of the climate crisis and how we solve it," Reyes Mason says. New projects include a systematic review to inform social work engagement in the "just transition" away from fossil fuels and a policy mapping project on federal climate change legislative action, especially as it relates to socially vulnerable or minoritized groups of people.
"GSSW has the highest commitment to social justice, community engagement and public impact scholarship of any school of social work that I know," Reyes Mason says. "The Sustainable Development and Global Practice pathway is a perfect fit for my teaching, and I look forward to collaborating on climate justice research with faculty at GSSW and across the University."
Christie Moore, MSW, LCSW
Following eight years as an adjunct instructor and field liaison, Christie Moore joins the GSSW faculty this fall as an assistant professor of the practice. She has an MSW from the University of Chicago School of Social Service Administration and is a licensed clinical social worker in Colorado. Moore's professional experience has largely focused on at-risk populations and integrated care. In addition to clinical work, she has experience in advocacy, agency management and program development. Among the courses Moore will teach is the MSW@Denver required Foundation Seminar, which integrates theory and professional practice to link classroom learning with practice in the field.
"I am committed to supporting successful outcomes for students in the field," Moore says. "I believe students are most successful in field when they are active learners — grappling with issues of social justice, advocating for social change, reflecting on experience and integrating social work theories and values into practice."
Sophia P. Sarantakos, PhD
Sophia Sarantakos has a PhD from the University of Chicago School of Social Service Administration and joins GSSW this fall as an assistant professor. Sarantakos is an instructor for the Integrated Social Work Practice for Social Justice course, and in winter 2021, they will teach a course they developed on abolition of the prison-industrial complex. Through community-engaged scholarship, Sarantakos aims to facilitate the reduction of the size, scope and power of the prison-industrial complex. "I hope to connect with and learn from community-based organizations in Denver, and beyond, that are working to eliminate carceral responses to harm and need," says Sarantakos, whose current research focuses on the decision-making processes of "progressive" prosecutors and how their conceptions of risk and need differ from their traditional counterparts. "Working in partnership with these organizations, I aim to investigate and amplify their effective non-carceral approaches and help bring them to the fore."
"At GSSW, research is not merely an intellectual exercise, but a mechanism through which structures, theories and policies are challenged and changed so that more people have what they need to thrive," says Sarantakos, who co-authored a recent call for social work to fully support defunding the police.
Kaipeng Wang, PhD
Kaipeng Wang joins the University of Denver this fall as a GSSW assistant professor and a faculty affiliate of the University's Knoebel Institute for Healthy Aging. He earned his doctorate from Boston College and was an assistant professor in the Texas State University School of Social Work.
Wang's research examines social determinants of health and mental health disparities among older adults to inform the development, evaluation and implementation of culturally sensitive interventions to improve mental health outcomes. His current research projects explore the psychosocial factors that influence end-of-life care planning — such as completion of advance directives and family engagement of end-of-life care — among older Asian Americans. Wang is also collaborating with colleagues to examine the implementation and effectiveness of culturally adapted physical exercise interventions on reducing behavioral and psychological symptoms of dementia in Thailand.
"I'm committed to motivating more social workers to develop and implement evidence-based services for vulnerable populations," says Wang, who teaches research methods, program evaluation, statistical analysis and macro practice. "GSSW's commitment to promote social justice and community engagement through scholarship and education aligns with my own research agenda on immigrant health and minority aging.