New GSSW faculty bring decolonial, antiracist, abolitionist and critical theory perspectives to social work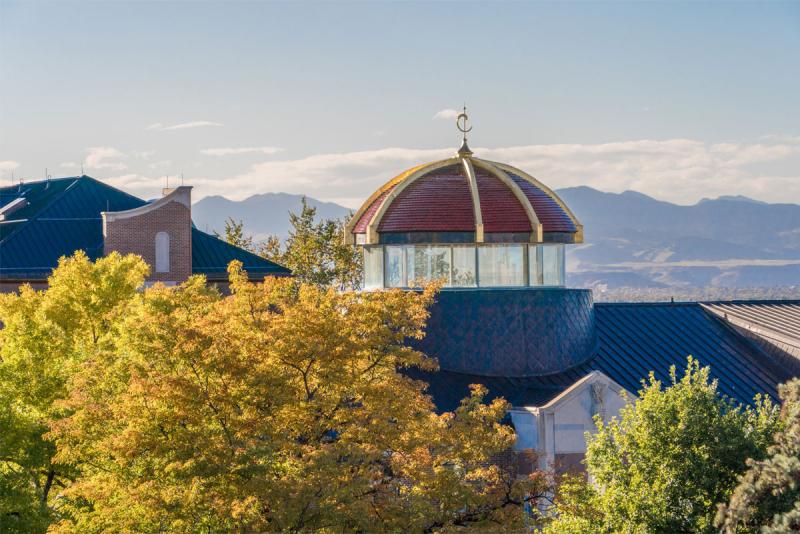 This fall the University of Denver Graduate School of Social Work (GSSW) welcomes five new faculty members — Autumn Asher BlackDeer, Deborah Blumenthal, Mónica Gutiérrez, Tyrone Hamler, and Jason Lester — whose rich practice experience and antiracist perspectives will strengthen the school's commitment to furthering social and racial justice and transforming social work practice.
Assistant Professor Autumn Asher BlackDeer
With a PhD in social work from Washington University in St. Louis, Autumn Asher BlackDeer describes herself as a decolonial Indigiqueer scholar from the Southern Cheyenne Nation. Having grown up in a small town in Arkansas, she says she is happy to return to her tribe's traditional homeland, where the University of Denver now sits. "I really want to get into the community and meet folks, build those connections," she says.
At GSSW, BlackDeer will be teaching the MSW research methods course and hopes to introduce content she developed around decolonial research methods. Inspired by her own experience as a sexual assault survivor, her research focuses on manifestations of structural violence, including interpersonal violence, mental health, substance use, reproductive justice and maternal child health. Her research interests also include American Indian, Alaska Native and Indigenous communities, including Indigenous child welfare. Most immediately, she is focused on creating a framework to advance Indigenous reproductive justice.
"I prioritize decolonial pedagogy, and all of my research is through a decolonial lens. It is my entire approach to navigating this world we're in," she says. As an abolitionist, BlackDeer challenges future and current social workers to imagine and create systems that aren't shaped by white supremacy. "There are other ways possible, there are other worlds possible," she says. "I'm working on making those things a possibility."
Assistant Professor of the Practice Deborah Blumenthal
Whether working with youth in juvenile detention or with veterans who have PTSD, alumna Deborah Blumenthal, MSW '02, LCSW, has always applied a social justice focus to her clinical work. "How did folks end up where they were, and what was the larger context to where they were at this moment?" she wondered.
She explored those linkages as an MSW student at GSSW and now guides student learning as a new assistant professor of the practice supervising field liaisons for GSSW's online MSW program, MSW@Denver.
Blumenthal's first clinical position was an undergraduate internship in a therapeutic nursery in Philadelphia, where she worked with children who had experienced abuse, neglect and parental addiction. Blumenthal grew up and attended college in rural Michigan, and the position took her out of her comfort zone. She went on to work in child welfare and youth residential care, where she had the opportunity to supervise students. "That's where I got reconnected in the idea of contributing to the growth and development of students and training good social workers," Blumenthal says.
When it comes to field placements, Blumenthal advises students to "approach everything as a learning experience, even when it's not exactly what you think it's going to be. The greatest learning experiences I've had have come out of discomfort and being in new environments I didn't anticipate — these huge growth opportunities," she says. "Stay open minded and approach everything with a learning lens."
Assistant Professor Mónica Gutiérrez 
As a first-generation college graduate born near the U.S.-Mexico border, Mónica Gutiérrez works at the intersection of social work and policy, using social work tools to investigate a wide range of macro issues relating to Latinas/os and neighborhood inequality.
With a PhD in social work from Arizona State University, Gutiérrez was first introduced to GSSW when she participated in a workshop for emerging leaders held at the school. "We were reimagining social work, human-centered design, what are the mechanisms for change. I was shocked—I was never in a space where leadership was talking about moving our profession forward," Gutiérrez says. "Our profession was really being called out for upholding oppressive systems we ask our clients to engage in. GSSW was asking those critical questions and that was amazing." When a faculty position became available, Gutiérrez jumped at the chance to apply.
Gutiérrez will teach Organizational Leadership & Policy Practice foundation courses and the elective Community Driven Social Work Practice. As former child welfare worker and victim advocate, "You realize all of these injustices that happen from a policy perspective," Gutiérrez says. "That's what actually moved me into research." In her community-rooted research, she applies frameworks such as critical race theory to explore the ways that structural and institutional racism contribute to the inequitable allocation of power, land and resources for Latinas/os.
"I'm excited to join colleagues who are like minded, who translate the work we do in the academy into action," Gutiérrez says.
Assistant Professor Tyrone Hamler 
Tyrone Hamler has had his eye on social work schools "doing progressive work," and GSSW stood out "because of the amount of faculty engaged in work that was pushing social work forward but still rooted in clinical practice."
With a PhD in social welfare from Case Western Reserve University, the former medical social worker now will be teaching in GSSW's Health & Wellness concentration, including a course on evolving trends in social work and health.
As a community-embedded researcher focused on health equity in kidney disease, medical decision-making, chronic illness and aging, Hamler is getting to know his new community and its challenges and needs, which will drive his research agenda going forward. "It's not easy to be the outsider," he says, "but a part of doing academic work is you're introducing yourself to new communities, new stakeholders. Having a social work background makes that easier for me."
When he worked in direct practice, Hamler was interested in understanding the health disparities he saw every day. "There were issues related to bias in health care professionals and the healthcare system in general, that available resources were unequally distributed among the folks that needed them," he says. "I saw a lot of prejudgments, a lot of assumptions being made about certain populations, a lack of education about racism, discrimination, sexism in health care. Those are places that need serious intervention."
Clinical Assistant Professor Jason Lester
Jason Lester's social work career originated when he was orphaned at age 16. Lester remembers "so many social workers, therapists, school counselors all being in my corner," helping him to be placed in his best friend's home instead of with strangers in Georgia's foster care system.
The placement worked out well for him, and he earned a band scholarship to Alabama A&M University (AAMU), where he majored in sociology. Driven by the motivation to improve people's lives and advance social justice, he earned a Master of Science in human development and family studies at AAMU, followed a decade later by an MSW at GSSW and a Doctor of Social Work from the University of Southern California.
Lester put that education to work helping children and families, striving to "try to keep more kids out of the system." His nearly 20 years of social work practice included working as the adoption supervisor at Denver Human Services, where Lester's team created permanency for more than 800 children over four years. "That was the highlight of my career," says Lester, MSW '16. As the new faculty lead for GSSW's Child Welfare MSW concentration, Lester will teach across the curriculum and share his vast experience and knowledge at the micro, mezzo and macro levels. He aims to help future social workers to develop "a sense of comfort with their abilities."