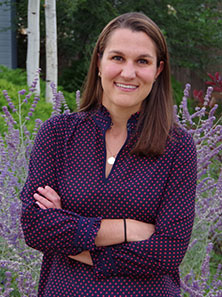 Jessica King McLaughlin
Adjunct Faculty
PhD Student
Faculty, Doctoral Students
Craig Hall, 2148 South High St. Denver, CO 80210
Specialization(s)
aging and gerontology, clinical social work, public policy
Professional Biography
Jessica King McLaughlin has a BA in psychology from Emory University and an MSW from Boston College. While at Boston College, King was the student leader of the neuroscience and social work group, and she completed specialized research on traumatic brain injuries and post-trauma. Jessica also has experience in grantmaking through The Boston Foundation, helping nonprofits facilitate grants and garner donations.

After completing her MSW, Jessica worked as an in-home therapist with children and families in Boston with the Massachusetts Society for the Prevention of Cruelty to Children. Since moving to Colorado three years ago, King has worked in community mental health, performing trauma evaluations on children involved in the CPS and foster care system. She has also worked as a medical social worker at Medical Center of the Rockies.

King's work with multigenerational families motivates her research interests in caregiver burden, gerontology, and workforce policy implications for working female caregivers.
Degree(s)
MSW, Mental Health , Boston College School of Social Work, 2013
BA, Psychology, Emory University, 2008
Licensure / Accreditations
Licensed Clinical Social Worker (LCSW)