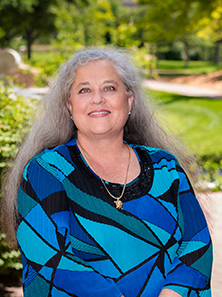 Nancy Marie Lucero
Research Associate Professor, Senior Research Associate, Butler Institute for Families
Craig Hall, 2148 South High St. Denver, CO 80210
What I do
Today, healthy and culturally connected American Indian children represent a victory in Native peoples' long struggle to resist assimilation and cultural loss. Indian child welfare practice in urban and tribal communities ensures the well-being of children, families and tribes, and it is a powerful tool that supports cultural preservation and tribal sovereignty. I'm honored that, through social work research and practice, I've been able to join with so many others in collective efforts to strengthen and preserve Native cultures, communities and families.
Specialization(s)
child welfare, clinical social work, culturally responsive practice, evidence-based practice/implementation science, indigenous and native peoples, mental and behavioral health, research methods, trauma
Professional Biography
Research Associate Professor Nancy M. Lucero (Choctaw) also serves as director of evaluation for the Capacity Building Center for Tribes, a Children's Bureau project administered by the Butler Institute for Families. Lucero has experience designing and implementing practice models in tribal and urban Indian child welfare services. She was also recently principal investigator for a Children's Bureau project evaluating the Denver Indian Family Resource Center's trauma-informed and culturally responsive urban Indian child welfare practice model. Lucero's most recent scholarship is focused on articulating how Native child welfare workers incorporate cultural practices and cultural preservation efforts into child welfare services.

Lucero is also interested in increasing understanding of American Indian relocation and urbanization experiences. Studies in this line of her research have examined the effects of multigenerational urban residence on the development and negotiation of Native cultural identity and cultural connectedness, and the means used by urban-based Native people to negotiate dominant culture service delivery systems.
Degree(s)
Ph.D., Social Work, University of Denver, 2009
MSW, Social Work, University of Denver, 2000
BS, Social Welfare, Metropolitan State College of Denver, 1995
Licensure / Accreditations
Licensed Clinical Social Worker (LCSW)
Professional Affiliations
Society for Social Work Research (SSWR)
Key Projects
Denver Indian Family Resource Center ACYF Project - Year 3
Indian Child Welfare Support
Choctaw Family Violence Program Implementation Support & Evaluation Planning
Denver Indian Family Resource Center ACYF Project
An Intergenerational Examination of the Effects of Urbanization on American Indian Cultural Identity and Cultural Connections
Featured Publications
(2013)
.
Re-examining child welfare's response to ICWA: Collaborating with community-based agencies to reduce disparities for American Indian/Alaska Native children.

Children and Youth Services Review
,

35

(3)

,

394-401
.
.
(2017)
.
Evaluating the cultural fit of an approach for practice model development for tribal child welfare.

Journal of Public Child Welfare/Taylor and Francis
,

11

(1)

,

91-107
.
.
Presentations
(2018)
.
"It Hurt to Hear the Story": Preparing for Secondary Traumatic Stress Reactions in Researchers Immersed in Indigenous Settings
.
Qualitative Methods 2018
.
Banff, AB Canada:

International Institute for Qualitative Methodology
.
.
(2018)
.
Exploring Qualitative Interviewing and Analysis Techniques to Yield Deep and Nuanced Findings: Lessons from the Expressions of Culture in Tribal Child Welfare Work Project
.
Center for Research on Children and Families Research Seminar Series
.
Montreal, QC Canada:

McGill University School of Social Work
.
.
(2018)
.
Trauma Experiences of Urban American Indian Parents/Caregivers Involved with Child Welfare Systems
.
Society for Social Work and Research 2018 Annual Conference
.
Washington, DC:

Society for Social Work and Research
.
.
(2017)
.
Participatory and culturally-congruent strategies for increasing evaluation utilization by tribal programs and stakeholders
.
American Evaluation Association 2017 Conference
.
Washington, DC:

American Evaluation Association
.
.
(2017)
.
Creating an Evaluation Structure that Incorporates Multiple Evaluation Needs
.
American Evaluation Association 2017 Conference
.
Washington, DC:

American Evaluation Association
.
.