Suzanne Delap, senior research associate II, and principal investigator and co-investigator for Indigenous initiatives and early childhood projects, shares her experiences within tribal child welfare and the path that lead her to her involvement in the work we do here at Butler Institute for Families.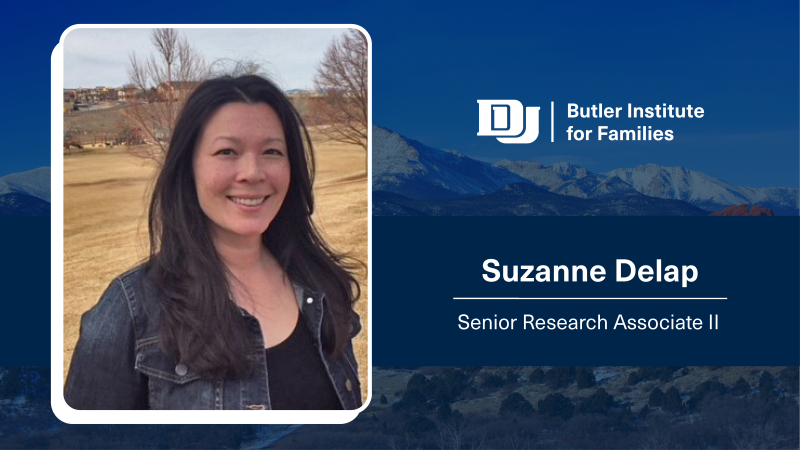 Butler Staff Spotlight - Suzanne Delap
What interested you in working for Butler? 
I've always been interested in supporting children and families who are disadvantaged by systemic bias. This is especially important to me, as I come from a Native background, and thriving families are the foundations of a strong community. My journey began in school psychology, where I worked to improve academic, social-emotional and adaptive outcomes for children and adults. After obtaining my doctorate, I was able to apply my knowledge and skills at Butler, allowing me to support healthy family systems through program evaluation and research.
What is your position at Butler? What do you enjoy most about your position? 
I am a senior research associate II at Butler, and I serve as the principal investigator and co-investigator for Indigenous initiatives and early childhood projects. Though I feel fortunate to engage in this work, what I enjoy most is collaborating with my coworkers. The people at Butler are the best part.
What projects are you working on currently? 
I study the outcomes of preschool and early academic support for the Denver Preschool Program and Choctaw Nation of Oklahoma. I also lead the evaluation team for the Capacity Building Center for Tribes, which focuses on providing technical assistance to tribal child welfare programs across the nation. I also lead projects related to early childhood needs assessments. In my personal time, I maintain a private practice here in the Denver metro area. I work with children and adults to better understand their learning styles, needs and accommodations in an educational setting.
What are the outcomes you hope for with this project? How will this project impact the community? 
My hope is that my evaluation work will highlight the needs of marginalized communities who lack representation so that we can begin to change hearts and minds, and eventually, create actionable change in our systems.
Learn more about Butler's early childhood, child welfare, tribal child welfare, & behavioral health initiatives
Learn More