$1.12 Million Grant to Prevent & Treat Opioid Use
New program will grow Colorado's workforce to address substance use prevention, treatment, and recovery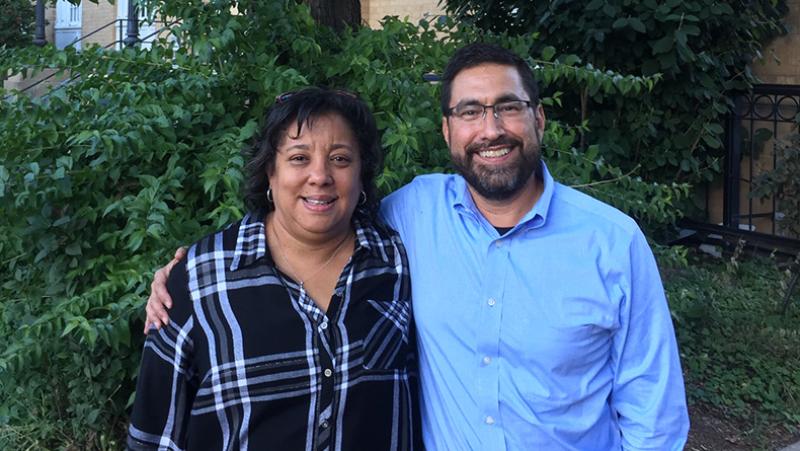 Michele Hanna (left) and Michael Talamantes (right) 
The University of Denver Graduate School of Social Work (GSSW) has received a new $1.12 million grant to expand Colorado's behavioral health workforce trained to address prevention, treatment, and recovery services for opioid use disorder and other substance use disorders. The grant from the U.S. Department of Health and Human Services Health Resources and Services Administration (HRSA) will fund the Collaborative Learning and Innovative Educational Models of Behavioral Health–Opioid Workforce Expansion Program (CLIMB-OWEP), which includes $10,000 stipends and specialized training for 67 MSW students over three years.
Up to 18 advanced-standing or concentration-year students in the Denver Campus, Four Corners and Western Colorado MSW programs will receive the stipend for 2019–20. Offered in collaboration with partner agencies in the community, as well as the University of Denver Graduate School of Professional Psychology, interprofessional training for CLIMB-OWEP students will cover topics such as medication-assisted treatment, telehealth and complementary modalities. Students in the program will also attend national conferences and complete an internship exchange to experience services provided by different agencies, says project PI and Associate Professor Michele Hanna.
CLIMB-OWEP is GSSW's second HRSA workforce grant, says co-PI and Clinical Associate Professor Michael Talamantes, noting that GSSW is the only school of social work in the Rocky Mountain west to receive the funding.
Colorado ranks second in the U.S. for illicit drug use in the past 30 days, and overdose deaths have nearly tripled in the state since 1999. "CLIMB-OWEP will increase the number of culturally and linguistically competent graduate-level behavioral health providers trained to provide prevention, treatment and recovery services in high-need and high-demand areas," Hanna says.