Centering Indigenous Knowledge
The Four Corners MSW Program emphasizes Indigenous knowledge and experiences in the rural context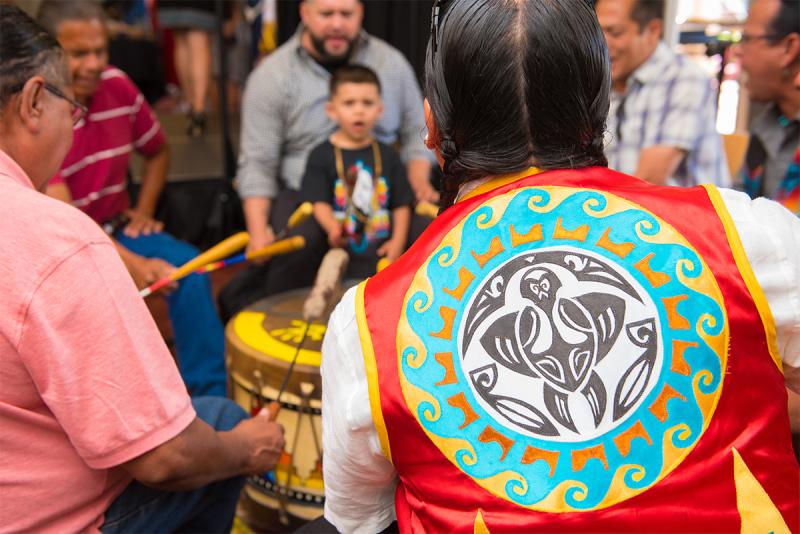 How do you define family? Indigenous MSW students often answer that question very differently than their white peers, says Seratha Largie, MSW '20, an alumna of the University of Denver Graduate School of Social Work Four Corners MSW Program.
Largie is Diné (Navajo), of the Towering House (Kinyaa'áanii) clan and born from the Near the Water (Tó'áhani) clan. Her maternal grandfather is of the Mud clan (Hashtł'ishnii), and her paternal grandfather is of the Water's Edge (Tábąąhá) clan. For a class assignment in her MSW program, she used a definition of family that was inclusive of her complex Native kinship and clan ties, but her instructor deducted points because Largie didn't use the textbook definition of family.
Four Corners Program Director and Associate Professor of the Practice Janelle Doughty, MSW '04, is working to center Indigenous knowledge in the program to prevent negative experiences like Largie's and ensure that all Four Corners faculty and students have the understanding and cultural humility needed to work effectively with Indigenous populations. "We are making sure that Indigenous ways of knowing and experience in the rural context is the heart of the program rather than an augmentation of the curriculum," says Doughty, who identifies as a member of the Southern Ute Tribe and Navajo from the Red Running into the Water clan.
Recent changes have included enhancements across the curriculum, such as adding more readings from Indigenous scholars and inviting guest speakers from nearby Indigenous communities to share their knowledge in every class (and compensating them for their time and expertise). For example, in a recent family systems course, a guest speaker shared about different Indigenous family structures and the way that clans operate.
The Four Corners program also signed a memorandum of understanding with the Ute Mountain Ute Tribe, whose tribal council will now approve internship agreements. "By asking for the council's blessing, we're honoring their sovereignty and process rather than our process," Doughty says.
"I owe a lot to the Four Corners Program. It was a great experience," Largie says. "And, we need to do better."
For example, she says, "[The program's] definition of rural wasn't my definition of rural. That's where a lot of the underlying challenges were — it was trying to understand that piece. In tribal communities in the Four Corners, play therapy doesn't exist. Private practice is rare. What does social work practice look like on tribal territories? None of that was addressed. Those are important conversations that need to happen."
Informed by experiences like Largie's, Professor Deb Ortega has been working with Doughty on the Four Corners curricular changes and has been working to diversify the MSW curriculum across GSSW programs.
"We're trying to help students understand issues such as sovereignty and decision-making, and how that impacts issues such as licensing," Ortega says. "If you get licensed in the State of Colorado, what happens on tribal lands? Who are you responsible to?"
Social workers who practice in rural or tribal communities may also have to think about issues such as the role of police, including how long it can take for first responders to show up. Internet connectivity may be slow, spotty, or nonexistent. What are the ethics involved in offering therapy when you have kinship relationships with so many of the people around you?
Social workers also need to understand and honor Indigenous culture and traditions. For example, Ortega says, "Even mentioning people who have died may require cleansing rituals."
Four Corners alumna Imo Succo, MSW '20, shares another example: eye contact, which is taught as a standard social work practice. "As a Native person, we don't do a lot of eye contact," Succo says. "When my late grandmother raised me, she said, 'Don't look into people's eyes because they could witch you.' You don't look into men's eyes because you only do that with a partner."
Given the program's location in the Four Corners region, students and alumni interact with a higher percentage of Indigenous individuals than they might elsewhere, notes Assistant Program Director Carla Hase. Through the recent curricular changes, she says, "Students are learning more about how to culturally appropriately navigate that landscape and how to combat negative stereotypes out there from providers and agencies."
A Launchpad for Social Work Careers
In 1949, Howard Walkingstick — a member of the Cherokee Nation — graduated from GSSW. He was the was the first Native American in the nation to earn an MSW. Yet, some 60 years later, American Indian and Alaska Native students comprise only 0.8% of social work MSW students nationwide, according to CSWE. At GSSW, that number is 1.01%.
More than 200 students have graduated from the Four Corners MSW Program since it was established two decades ago to meet a workforce shortage. About half of those graduates have stayed on to work in the region, Hase says. Still, she notes, many more providers are needed — particularly social workers who identify as people of color. "We have a lot of LPCs and MSWs, but we don't have many LPCs and MSWs of color. We have people e-mailing us weekly asking for Indigenous, Latinx and Spanish-speaking interns and providers."
One of two Four Corners graduates currently enrolled in doctoral programs, Largie is a PhD student at the University of Washington School of Social Work, where her research focuses on analyzing how biases in the federal and state funding system impact tribal early childhood programs. "I'm looking at how policies are adopted and structured, and what is really happening," she says. Although education has taken her away from the Four Corners, at least for now, she intends for her work to help her community.
Succo identifies as a Navajo woman of the Water Flows Together clan, born from the Bitter Water clan; her maternal grandfather's clan is the Mountain Cove clan, and her paternal grandfather's clan is the Mexican clan. She is among the half of graduates who have remained in the region. She attended college as a working single mother of three and today is the program manager for the Indigenous Wellbriety Program at Southwestern Colorado Area Health Education Center.
When she applied to the Four Corners program, Succo says, she couldn't afford the $80 application fee. "I grew up really poor, learned English as a second language, didn't have electricity or running water. I never thought I was good enough. Stigma really affects Native people."
Particularly in a therapeutic setting, Succo says, it's helpful to have another Native person to talk to — someone you don't have to explain your Native self to.
That need inspired Succo to start the Wellbriety program, which uses the White Bison Wellbriety model to help people in substance abuse recovery or who are seeking recovery. The community-focused, family-centered program emphasizes cultural awareness and respect for diversity as it works to connect Indigenous families and individuals to their elders and cultural traditions.
"We create a space where culture can be remembered, taught and celebrated," Succo says.