Diversifying the Curriculum
GSSW is working to make its MSW and PhD curricula more diverse, accessible and anti-racist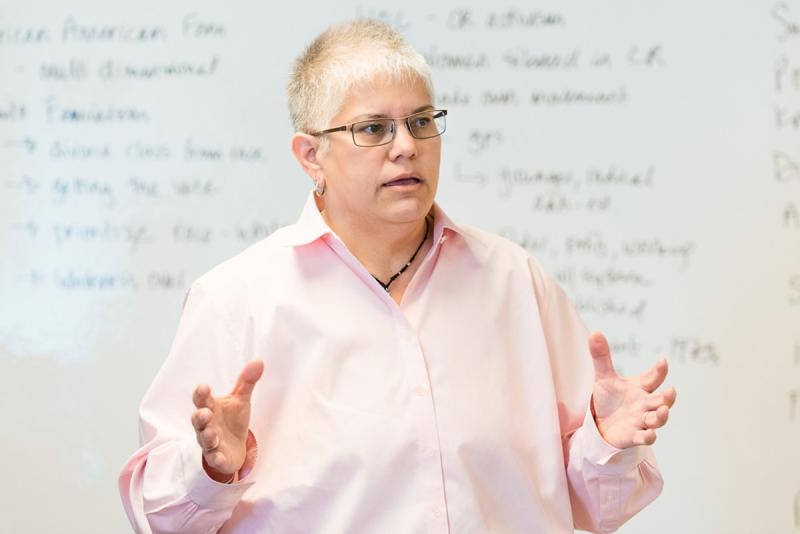 The social work profession is increasingly grappling with not just how to promote social and racial justice, but also how to recognize and right the injustices the profession has created or perpetuated. Schools of social work nationwide are having the same conversation about what needs to change — and how — in research, in practice, and in social work education.
Those conversations are happening at the University of Denver Graduate School of Social Work (GSSW) as well, guided by a school strategic plan that is focused on equity and a new diversity, equity and inclusion action plan at the university level. "This is urgent work that cuts across all areas of the school, including curricula and pedagogy, research, operations, and culture," says Dean Amanda Moore McBride. A critical component of the ongoing work, she says, is evolving the curriculum to better represent diverse perspectives and prepare students with the theoretical framework and critical thinking skills needed to respond to client, organizational and community needs in a just, equitable and human-centered way.
"We want to ensure that our curriculum lives our values and that social and racial justice are part of the DNA of all of our programs and training," McBride says. Ultimately, she notes, "changing the foundation of social work education will mean that social work is practiced differently in the future, allowing more just practices and systems to emerge and take hold."
 
Changes in the PhD Curriculum 
Rooted in a power, privilege and oppression (PPO) framework, the PhD curriculum provides a strong foundation in social work theory, research methods and pedagogy. An internal audit has shown that most PhD courses include content on anti-racism and incorporate diverse perspectives, says Professor Eugene Walls, co-associate dean of doctoral education, and the school is working to ensure that all courses do.
That content manifests in many ways. For instance, courses draw from critical race theory, critical perspectives on research ethics, policy analysis using readings from the 1619 Project, and policy analysis frameworks including the Racial Equity Toolkit, feminist policy analysis framework and intersectionality framework, Walls notes.
"In assignments about research, theory and policy, students must critically examine their own positionality and its relationship to communities and social problems their work aims to address," says Professor Kim Bender, co-associate dean of doctoral education.
Beyond the foundational social work pedagogy course and the requirement to complete at least one teaching practicum, students can experience other perspectives through courses such as "Critical Approaches to Facilitating and Teaching: Anti-Racist, Feminist, and Queer Pedagogies," a new course for both PhD and MSW students developed by Walls and Assistant Professor Marquisha Lawrence Scott.
In addition to required statistical and methodological courses, students explore arts-based and Indigenous methodologies through the "InDIGIqualitative Methods" course taught by Associate Professor Ramona Beltrán. The school has even incorporated an anti-racist, critical theory perspective in its quantitative methods course sequence.
"I don't want our doctoral students to leave thinking that as a quantitative researcher, their work can't contribute to equity and inclusion," says Walls, who is teaching the course this fall. "Quantitative work can be used in service of more equity, inclusion and social and racial justice."
In 2019, GSSW began requiring new doctoral students to attend an orientation focused on power, privilege and oppression, and, as part of the school's Culture and Climate Initiative, doctoral students have joined faculty and staff colleagues to receive additional training in issues such as microaggressions, implicit bias and peer accountability. The school has transitioned to a team mentoring approach as well, better ensuring that students can become the scholars that they want to become — not just reflecting their mentor or replicating oppressive practices.
Coming changes include additional course content and assignments on anti-racist pedagogy, pedagogies that use a restorative justice lens, and queer and feminist pedagogies, Walls says. Faculty will also increase the number of readings by Black, Indigenous and other scholars of color, as well as queer scholars, into readings in the theory course sequence, while the mixed-methods course will explore topics such as data justice and decolonization.
GSSW also is exploring how to better integrate community engagement and public impact into the PhD curriculum. "How do you give back to the community, how do you engage community, and how is community an equal partner in doing research? Our work in those two areas definitely have implications for critical perspectives," Walls says.
"For us to have social work professors do things differently, we have to do things differently," says Bender. "If we keep training doctoral students in the same way, we're not changing the system. The hope is that there's a long-term ripple effect to the practitioners they train."
"I would love for it to be very clear when it's a GSSW PhD graduate, that the way they think about research and the way they teach leads with this critical, anti-racist perspective," Walls adds.
 
Changes in the MSW Curriculum 
With three MSW programs across the state of Colorado and one MSW program available online, the MSW curriculum is more complex. Still, foundation and pathway courses are continuously updated and evaluated to link PPO concepts to content and the changing national and international environments.

Since its beginnings more than a decade ago as Multicultural Social Work Practice, the Power Privilege and Oppression course has undergone three substantive iterations, says course lead and Professor Deb Ortega, director of the Latinx Center at the University of Denver. "We went from focusing on race to using critical race theory as a framework to talk about humanizing and dehumanizing practices," Ortega says. "This framework guides students to anti-oppressive practices and specific critical thinking techniques that they can use with clients and communities. The PPO course prepares students to engage, assess and determine the best ways to partner with clients and communities in interventions that consider macro-level factors that lead to dehumanization and social problems. This focus is especially important as the macro-level factors can subvert the interventions utilized by social work practitioners at all levels."
Many students leave the PPO course seeking more knowledge and skills. So, Ortega and several colleagues — Clinical Assistant Professor Brian Gonzales; Clinical Associate Professor Julianne Mitchell; Clinical Assistant Professor Heather Arnold-Renicker; Associate Director of Instructional Design, Accreditation, and Assessment Akio Correll; and adjunct instructor Dawn Crosswhite — are developing an advanced PPO course to be offered in spring 2021. Also this spring, MSW students will be able to take the new course on anti-racist, feminist, and queer pedagogies offered by Walls and Scott.
Advanced "Values for Practice" courses such as Critical Race Theory & Praxis, Historical Trauma, Disability Studies, and Social Work Practice With LGBTQIA Communities build on the PPO foundation through focused study about a particular social issue or population. At least one of these "Values for Practice" courses is required for all concentration-year students.
To help ensure that all faculty, including adjuncts, are fluent in teaching PPO concepts, Gonzales has worked with the academic affairs team to revise adjunct faculty hiring and onboarding. Among the changes: New adjuncts have access to the online version of the Power, Privilege, and Oppression foundation course materials before teaching with GSSW. Ongoing, Clinical Associate Professor Jae McQueen will work with adjuncts to improve communication, orientation, training, and individualized teaching development with an emphasis on culturally responsive teaching and integration of PPO.
In addition, GSSW's field education program offers a full slate of training opportunities for field instructors, supervisors and liaisons focused on equity, diversity and inclusion. "GSSW's power, privilege and oppression framework — the core of our academic curriculum — is extended to our field training curriculum," says Mitchell, a member of the field faculty.
"We assess and revise courses routinely to promote how the course content links to PPO, how diverse voices and perspectives are represented in the learning materials, and how instructors teach from a critical, anti-racist pedagogy," says Associate Professor Leslie Hasche, associate dean for academic affairs.
For example, Correll works with faculty to revise course objectives to align with social work competencies and anti-oppressive practice approaches. Across MSW programs and the appointed and adjunct faculty, instructors are engaging in trainings to improve how anti-racist and anti-oppressive practices show up in what they teach and how they teach. And, the school continues work to incorporate Universal Design for Learning best practices across the curriculum. "We can't teach Power, Privilege and Oppression while oppressing students who don't learn in the typical fashion," Ortega says. "The school has invested faculty time and expertise in working to make sure our curriculum is 100% accessible to all people."
These changes are part of an ongoing process of improvement, Ortega says. "The content we have in this school is so different than 15 years ago." When amplified by hundreds of students each year, across generations, she adds, "Small changes can have a large impact."