Kathy Johnson is retiring after more than a decade serving GSSW's field education program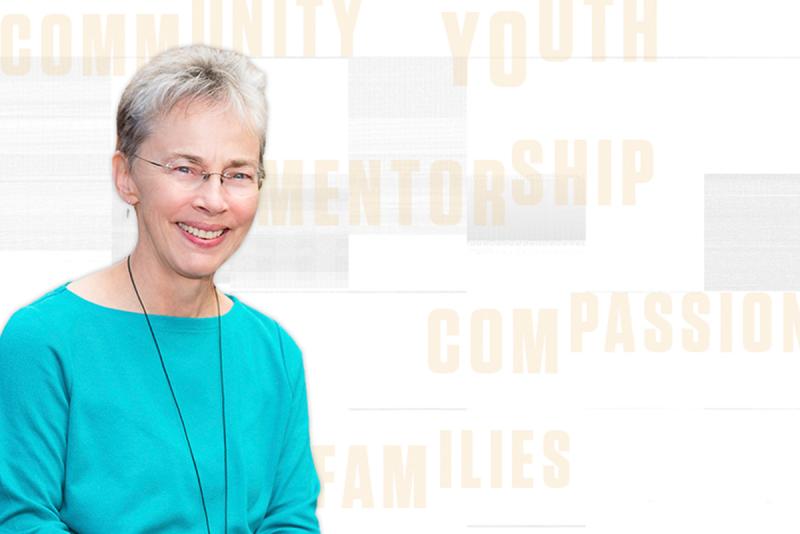 It takes a talented and dedicated faculty and staff team to operate a large graduate program like the University of Denver Graduate School of Social Work (GSSW) MSW Program, and much of the vital work happens not just in the classroom, but behind the scenes. Clinical Associate Professor Kathy Johnson, MSW '89, LCSW, has been one of those team members whose behind-the-scenes work has made a significant impact on students and social work in Colorado.
As associate director for field education since 2016, she has managed daily operations for the Denver Campus field education program, which provides more than 700 internship options for more than 500 MSW students. The role involves supervising field faculty and staff; facilitating student and agency problem resolution; hiring, training and supervising adjunct field liaisons and off-site MSW supervisors; overseeing agency recruitment; quality assurance and program assessment; and much, much more.
Johnson is retiring this month after a social work career that included a private practice; teaching as a GSSW adjunct instructor, MSW supervisor and adjunct field liaison; and nearly 20 years at the Denver Children's Home, where her roles included program director.
A Teacher at Heart
Johnson started her career teaching elementary school in Montana, where she grew up. She enjoyed working with kids but says she was keenly aware of the things that interfered with their ability to learn, such as family or mental health issues. "As a teacher, you're limited in your ability to address those things," says Johnson, who pursued an MSW so she could provide children with more help.
As an MSW student at GSSW, she had a work study job in the field education office, and after graduation, she supervised other MSW students herself. "Even if I felt burned out in other arenas, I always enjoyed working with students," Johnson says. "It was invigorating and fun."
"I think at my core, I've always been a teacher," adds Johnson, who received a 2021 outstanding teaching award from the University of Denver. "I love helping people to learn, grow and develop self-awareness and come into the best of themselves — giving people the skills to succeed at what they're doing."
Corey Engle, MSW '20 Organizational Leadership and Policy Practice, is one of the many GSSW students who Johnson has positively impacted. Today, Engle is a youth engagement specialist and health educator with Jefferson County Public Health, where he works primarily on tobacco prevention efforts. When he started the MSW program, Engle was already working 25–35 hours a week as a counselor, and he didn't have the flexibility for a traditional internship. Johnson helped him to plan and establish a flexible internship with Colorado State Rep. Emily Sirota, MSW '09. "I was working and already behind in field," Engle says. "Kathy understood where I was in the process. I wasn't doing it the traditional way."
"It was invaluable to have someone there to support what I was trying to accomplish," Engle adds. "It was reassuring to have her help navigating a difficult path. She appreciated that there was a person behind the email."
Admirers say that holistic, human-centered approach is classic Kathy. "If you can't support the whole person, if you're just focused on the tasks, you're missing the opportunity for the biggest amount of growth and learning," Johnson observes.
 
Full Circle in Field Education 
While she was pursuing her own social work career, Johnson's passion for teaching and contributing to the greater good led her to become a field liaison, off-site supervisor and part-time field coordinator from 2008–2012. She became a full-time faculty field coordinator in 2012. "I got to live my dream. I loved field education and got to come back and work in field ed for the last 10 years of my career," Johnson says.
Professor of the Practice Ann Petrila (BA'79, MPA'82, MSW '82) was director of field education when Johnson was first hired as a liaison. "I was immediately so impressed by her. She was so humble and had so many more skills than the initial job required." Johnson stepped into new roles when asked and developed some critical field processes, including an off-site MSW supervision program that became a national model.
"A lot of people have no idea what she did and how valuable she's been to the field program," Petrila says, noting Johnson's "superb, ethical, student-focused work" and "wonderful, calm presence" on the field team. "Everything she did was relational," and those relational skills allowed her to successfully navigate the sometimes fraught logistics of field placements and agency–student dynamics.
Emily Gamm, MSW '13 Family Systems Practice, LCSW, has benefitted from Johnson's relational aptitude. As the behavioral health training coordinator at Sheridan Health Services, Gamm coordinates internships for 4–6 interns each year. The nurse-managed health center provides integrated physical and behavioral health care to a highly underserved, marginalized patient population. MSW student interns work on the clinic's multidisciplinary team, meeting with patients during primary care appointments to deliver brief interventions, providing therapy and running groups for clinic users or the community.
"In those stressful situations when a student was struggling or I was struggling, I always knew I could count on Kathy. She never failed to support our organization and the students in an equitable and level-headed way," Gamm says. "I knew all situations would be resolved in a manner that was ethical and really respected the humanity of everyone involved."
For someone who successfully juggled so much for so long, Johnson is looking forward to keeping things simpler in retirement. "I'm looking forward to having some time to meander through my days, to travel and see friends," Johnson says. And after the difficulties of the pandemic, "what feels so nourishing to me in the near future is being able to connect again directly with people."
"I've loved what I've done at GSSW, the work I've been able to do, the people I've worked with," Johnson says. "This portion of my career has been a real gift."