Growing Global Social Work
GSSW's new Global Social Work Certificate gives MSW students the skills and knowledge needed to work cross-culturally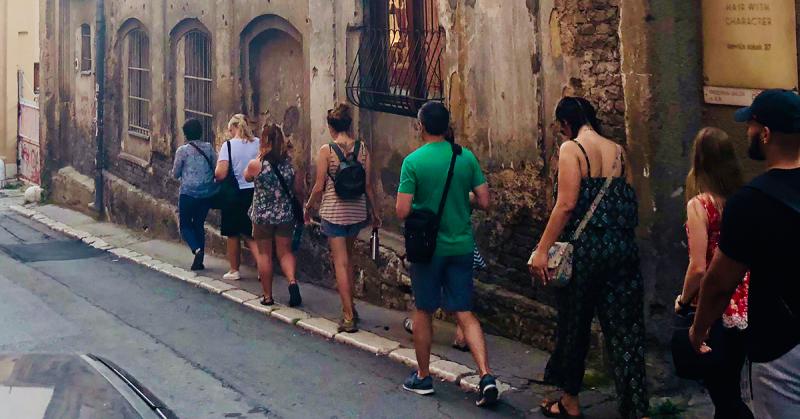 Beginning this fall, students at the University of Denver Graduate School of Social Work (GSSW) can add a certificate in Global Social Work to their MSW. Available to students in the Denver Campus MSW Program, the Global Social Work Certificate can be paired with any of eight MSW concentrations. The certificate and a new MSW concentration in Ecological Justice replace the former concentration in Sustainable Development & Global Practice.
"It made sense to focus on global practice in a certificate because then students in any concentration could take it," says certificate coordinator and Professor of the Practice Ann Petrila, director of Global Practice Bosnia. "Whether they work domestically or internationally, students can expand their perspective and see the many ways we're interconnected in the world. Students who take the certificate will end up with a much broader worldview and understanding of historical issues that helped us to get here and how we can move forward."
Certificate courses cover topics such as ethical considerations when working in communities other than one's own, and injustices and inequalities in the context of domestic and international policies and agreements. Students develop the skills necessary for approaching international social work practice with cultural curiosity and humility. "We look at how we practice social work in the United States and how it looks different elsewhere," explains Petrila, who works in Bosnia with survivors of genocide and co-authored a recent book about their experiences. "What do we need to know about working cross-culturally when systems such as mental health care are set up so differently? Are there things we do here that are applicable, and how do other places and communities organize themselves to impact change? What can we share and how can we partner — always with the cautionary note that we're not the saviors of the world."
Students also participate in Let's Go Global, a series of monthly trainings and activities related to international social work. Although the COVID-19 pandemic has disrupted international travel, students will also have the option to take courses or complete internships abroad once travel resumes.
GSSW offers global courses and internships in Bosnia, Kenya, South Africa, and Mexico.
Learn More
International Social Work at GSSW
GSSW's emphasis on international social work dates back 40 years, to when Kenneth Kindelsperger joined the school as dean in 1971. As a Fulbright Scholar, he had worked in India developing schools of social work, and during his tenure at GSSW, the Denver International Program was established at the University to bring professionals from other countries to the school for additional training. Under the leadership of Dean John "Jack" Jones (1987–1996), an international exchange program was established with the social work faculty at the China College of Youth Politics. The China Partnership was an international effort to assist with the reestablishment of social work in China, where the profession had long been banned by the government.
Dean Emeritus Catherine Alter led GSSW from 1996 to 2006, adding international immersion courses to Mexico and China to the MSW curriculum. As director of the school's field education program at that time, Petrila also introduced international field placements. Under Dean James Herbert Williams (2007 – 2016), the MSW concentration in Sustainable Development & Global Practice was introduced, and international courses were expanded to include Bosnia, Kenya and South Africa.
Learn more about these and other notable figures in GSSW's history.
Learn More
Global Social Work Career Options
Although there is increasing demand for global social work skills and experience in a range of sectors, Petrila notes that global social work programs aren't yet widespread in graduate schools. "Schools often have one course or have an international exchange with a particular part of the world," she says. "It is fairly unique to have a whole curriculum like GSSW's."
The certificate helps students to determine the type of cross-cultural work they're most interested in and best suited for — whether that's working with individuals, organizing in a community, or engaging at the international policy level. "The certificate appeals to students who have worked abroad or want to do more work internationally, but it is also designed for students who want to work with international populations in the United States — such as working with refugees in schools, hospitals, housing and community organizing settings —and students who want to get a broader perspective on social justice and human rights," Petrila adds.
Kaleigh O'Reilly is a first-year student pursuing an MSW concentration in Ecological Justice along with certificates in Global Social Work and Human–Animal–Environment Interactions. She aims to work in the international policy arena related to climate change, centering the voices of the people most impacted by policy and advocating for entire ecosystems — not just the human inhabitants. "We need to increase the number of social workers working on these issues," O'Reilly says. "The certificate will make me a better candidate and give me the background knowledge to work internationally.
"The Global Social Work Certificate helps me to connect the Ecological Justice concentration to other issues internationally," she adds. "Having that broad perspective will help me to make the greatest impact."