Making a Collective Impact
GSSW faculty, staff and students selected for DU Collective Impact Cohort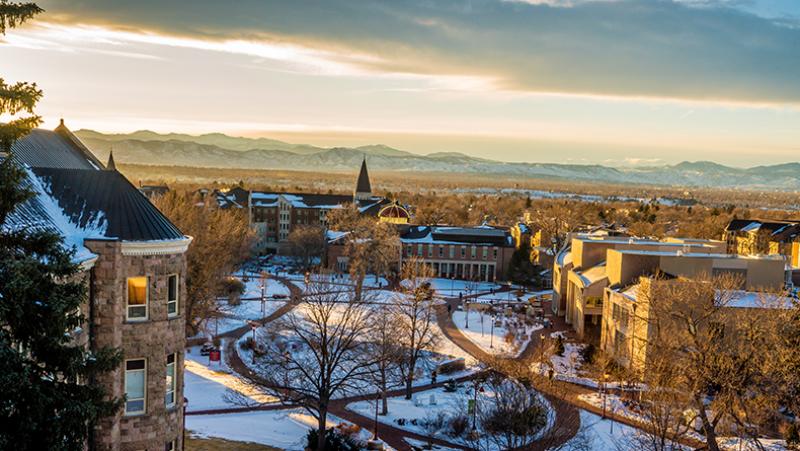 The University of Denver Graduate School of Social Work (GSSW) is known for its emphasis on putting science into action to improve individual and community well-being. Now, several members of the GSSW community are doing this in a new collaborative, cross-disciplinary way as members of DU Collective Impact Cohorts.
Established by the Center for Community Engagement to advance Scholarship and Learning (CCESL) to make progress on the University's Grand Challenges initiative, cohorts comprised of 14–22 faculty, staff and students from throughout the University will take action to create measurable change that improves daily living in our communities. Each cohort will be able to request up to $100,000 to support its work over two years in the areas of migration, sustainability in the urban environment, crime and safety, and housing and food insecurity.
Launched in 2018, the DU Grand Challenges initiative brings together University and community changemakers to address three interrelated issues in our communities: improving daily living, increasing economic opportunity and advancing deliberation and action for the public good. Each issue area is being addressed in a three-year cycle, allowing co-creation of aspirations, actions and achievement with community partners.
"The collective impact approach emphasizes moving from the isolated impact that a single project may have to a greater impact through collaboration and coordination," says GSSW Dean Amanda Moore McBride. "I am excited to see so many of our faculty, staff and students engaged in addressing grand challenges in partnership with colleagues university-wide. I look forward to seeing how they work together to translate science into action in our communities."
Migration
GSSW Director of Community Engagement Trish Becker-Hafnor and second-year MSW student Adrielle Knight are among the scholars working on the issue of migration. Becker-Hafnor holds an MSW and has worked in the U.S. and abroad providing trauma-focused therapy to refugees and asylum-seekers resettling to the U.S. Knight is a refugee-focused fellow with CCESL and interns at a Denver Public Schools program for refugee and immigrant students.
Sustainability in the Urban Environment
GSSW Clinical Associate Professor and Director of Humane Education Sarah Bexell is co-leading the 21-member Sustainability in the Urban Environment cohort. Bexell teaches courses and internships in Sustainable Development and Global Practice and humane education; she also serves as director of conservation education at China's Chengdu Research Base of Giant Panda Breeding.
Crime and Safety 
GSSW Assistant Professor Shannon Sliva and MSW student Sam Valliere are among the collective impact scholars addressing crime and safety. Sliva conducts national and local research on the impacts of criminal justice policy with an emphasis on innovative justice alternatives. She also is active in the social work grand challenge to promote smart decarceration, coordinating efforts to promote justice reinvestment.
A first-generation college student, Valliere is pursuing her MSW while also working as assistant to the chair in the Daniels College of Business Department of Management. She plans to work in the field of correctional social work, supporting individuals within the criminal justice system.
Housing and Food Insecurity 
GSSW Associate Professor Daniel Brisson is co-leading the Housing and Food Insecurity cohort, which also includes Professor Kimberly Bender and PhD student Jennifer Wilson. Brisson is director of GSSW's Burnes Center on Poverty and Homelessness, and his research focuses on poverty, low-income neighborhoods, housing and the connections that matter for families struggling with issues associated with poverty. 
Wilson's research focuses on social innovations addressing poverty and homelessness, including tiny home communities, artificial intelligence, human centered design and design thinking. She is a senior research associate with the Burnes Center and is a former Social Enterprise Fellow with the University of Denver Barton Institute for Philanthropy and Social Enterprise.
Bender partners with young people experiencing homelessness to understand their needs, engage them in social change projects and help them develop skills that can prevent adverse experiences. Her broader goal is to support youth-driven, holistic, strengths-based services for young people experiencing homelessness.