Public Impact Scholarship
From social media to mass media, public policy and more, GSSW has become a hub for public impact scholarship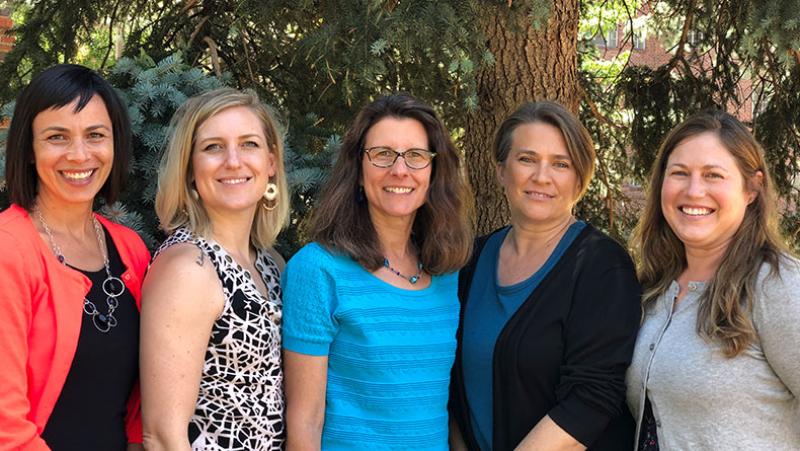 "Thanks for your blog, your book, and your work on such an important issue … You have continued to speak to me in a manner that reaches me and makes sense and helps me fight to stay alive." This reader comment is one of nearly 5,000 on Speaking of Suicide, a website authored by Graduate School of Social Work (GSSW) Associate Professor Stacey Freedenthal. 
Since Freedenthal launched it in 2014, the suicide-prevention website has had more than 2.2 million visitors, with 300,000 visits from more than 200 nations in just the last six months. More than 700 people follow the suicidologist on Twitter, and another 5,000+ follow her Speaking of Suicide group on Facebook. Writing and managing all that content, moderating comments and even finding emergency help for people who appear to be at imminent risk for suicide is, essentially, unpaid work. It's work done on nights and weekends and in spare moments because Freedenthal is passionate about helping and sharing her knowledge. 
GSSW has become a hub for such activity — public impact scholarship. "It is powerful the number of faculty we have who are committed to blogging, tweeting, hosting websites, convening community meetings, testifying and attending public meetings. They are holding themselves to a standard that removes the jargon and explains their research in clear terms," says Dean Amanda Moore McBride. 
Faculty members such as Assistant Professor Jennifer Greenfield, who monitors and comments on social policy via Twitter, shares her research and personal story in legislative hearings and recently discussed the costs of caretaking on the local news. 
With a research focus on understanding the determinants and outcomes of criminal justice policies and systemic practices, Assistant Professor Shannon Sliva promotes policies that are linked to more just and restorative outcomes. "Criminal justice professionals and systems can benefit from my work by having the translated research and tools necessary to make the community safer in a way that leaves people more whole, not more broken," Sliva says. Her deeply community-engaged research often culminates in the creation of public-facing reports, videos and other materials that help guide policy and practice.
GSSW Professor and Associate Dean for Doctoral Education Kimberly Bender has introduced the concept of public impact scholarship in the GSSW doctoral curriculum. Bender and Assistant Professor Anamika Barman-Adhikari also are members of REALYST, a national collaborative of academic and community partners that uses research to inform innovative policies, programs and services aimed at ending homelessness and housing instability among young people. With guidance from Julie Chiron, founder of the research communication firm Know it Out Loud, Bender says the collaborative is grappling with questions such as identifying their audience and key messages, and "How do we want the public to interface with our collaborative?" — questions that used to be the purview of public relations and marketing professionals, not social work scholars. 
An Evolution of Community-Engaged Scholarship 
Public impact scholarship encompasses the direct application of research and scholarship to solve social issues and influence public policy, inclusion and consideration of the public/community perspective throughout the research process, and the intentional dissemination of research findings through broadly accessible media channels. 
"Public impact scholarship is an extension of community-engaged scholarship," McBride says. "It pushes faculty to not just engage with the community to ensure they're answering questions that are meaningful. They must share their findings, considering the general public as the target of their work." 
That's a tall order for many researchers, who are trained in an entirely different way of communicating. "As an academic, we're trained to be transparent and detailed," Bender says. "But we also need to talk to people, including new partners and funders. How do you make something short, engaging and clearly relevant to people's lives — how do you frame your work in a different way?" 
As part of its ongoing commitment to the public good, the University of Denver is training scholars to disseminate research and scholarship to the public through its new Public Impact Fellows program. Five GSSW faculty members — Greenfield, Bender, Freedenthal, Assistant Professor Shannon Sliva and Assistant Professor Yoli Anyon — are among the first cohort of 20 fellows, who will learn how to best use media such as blogs, radio, television, op-eds and social media to share their work. 
Anyon — who studies racial disparities in education, school-based preventive interventions and approaches to positive youth development — has shared her work publicly via the news media, community partners and activities such as trainings for practitioners. It can be difficult, she says, to develop easily digestible messages about complex, nuanced research findings and make the most of interviews with news media. It's a challenge many researchers share and one that the Public Impact Fellows program hopes to address. 
Valuing Public Impact Scholarship 
How to communicate is just one of the challenges inherent in public impact scholarship. Finding time is another. Formulating and implementing public dissemination strategies in addition to traditional peer-review publication can be time consuming.  
But there are even more difficult questions to answer. "How do we value this work as a profession?" Bender asks. "How do we do it well and value it through tenure and promotion? How does it show up on a CV?" 
And, Bender says, "How do we quantify and measure impact? We typically measure impact by how often our peer-reviewed publications are cited, but we need to think more about the change we want to see happen because of our work." 
A GSSW faculty work group is focused on public impact scholarship, leading trainings and facilitating dialogue within the school. In 2019, they'll advance this conversation by convening leading scholars from across the United States to think about and discuss public impact scholarship and ways to help the social work field embrace it. 
"We need to have a conversation as a field about making our value known to the public, and in turn making this kind of work valuable to ourselves," Freedenthal says. "The currency in academia is peer-reviewed journal articles, but public impact scholarship is important, too." 
There is value in helping the public, practitioners and policymakers to discover relevant scholarship, Freedenthal notes, but there also is value to the researcher in receiving real-time, real-world feedback that can influence teaching and research. For example, Freedenthal says, hundreds of readers have posted comments on her website about why they don't seek help when suicidal. Foremost is a fear of involuntary commitment to a psychiatric hospital. That insight may lead to a journal article and recommendations for practice. 
There's also value in simply helping someone. As another of Freedenthal's blog readers wrote, "I think this article saved my life." 
Interested in knowing more about public interest scholarship and joining the conversation at GSSW's 2019 convening? Join the GSSW mailing list to receive updates.
Sign Up