Technology & Social Work Education
Technology is transforming not just how social work is taught, but what is taught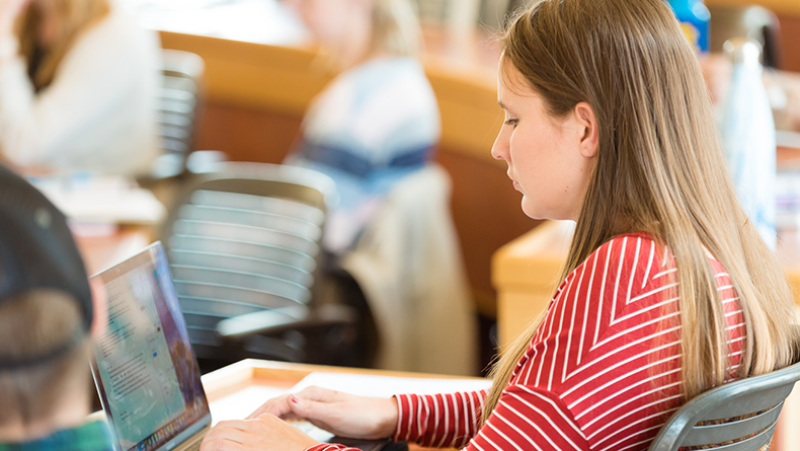 [This story is the second in a three-part series that explores the intersections of technology with social work practice, education and research.]
In 1985, the University of Denver Graduate School of Social Work (GSSW) opened an Information Technology Center. The first of its kind at a school of social work, the center was directed by Walter LaMendola (now a professor emeritus), whose scholarship focused on technology and social work. In 2002, the school launched its first foray into distance education with the Four Corners MSW Program, which used technology to simulcast classes to students more than 300 miles from Denver in Durango, Colorado. When the school's new building, Craig Hall, opened a few years later, it was lauded for its advanced technical capabilities.
Most students today have never known a world without screens, and online learning platforms like Zoom and Canvas are now ubiquitous. GSSW offers a fully online MSW through its MSW@Denver program. Like schools nationwide, GSSW had to quickly move all its classes online during the 2020 pandemic lockdown; it now offers classes in a mix of online and in-person formats.
Technology is becoming embedded in social work education more deeply than course format, however. It's changing not only how social work is taught, but what is taught. For example, GSSW's Geriatric Workforce Enhancement Program (GWEP) has used virtual reality to train social workers, nurses and other caregivers of those with dementia.
But how do you prepare social workers for a future that you can't see clearly? "Regardless of how the landscape is changing, you should be guided by the values of social work," says Assistant Professor Anthony Fulginiti, who uses social networks and artificial intelligence (AI) in his suicide prevention research. "Even when things are changing around you, you should always be reflecting on those values — your actions should be rooted in those professional ethics."
"Especially with MSW or undergraduate programs in social work, we need to train students to be good consumers of knowledge for them to be able to discern whether a technology is being used ethically or not, and the implications of using that technology for vulnerable populations," adds Associate Professor Anamika Barman Adhikari, who incorporates social networks and AI in her work with youth experiencing homelessness. "A lot of people think that because it's tech it doesn't have bias built in, but technology reflects our larger biases."
Barman Adhikari says that social work classrooms must consider not just standards for technology in social work practice, but also complex issues such as how social media and online case management could be used to engage hard-to-reach populations, how predictive analytics could be used ethically to help vulnerable populations, and how to discern when technology is being used optimally and when it is detrimental. Such courses aren't needed in the future — they're needed now, she says.
Loyola University Associate Professor Jonathan Singer agrees. Singer is co-lead of the Grand Challenge to harness technology for social good. "One of the things that we need to do a much better job of is having students evaluate the technology that consumers or clients are using," he says. For example, those who work with adolescents should know how to analyze whether an app is safe, including how kids are using the app and how its privacy policies might compromise their data. "Every single school of social work should be training students to think through the implications for the apps students are using. This should be integrated course work."
Singer also wants to see more courses that encourage and prepare social workers to develop the technology themselves. "Given the issues that families and individuals have," Singer says, "what technological solutions would we want to develop? Thinking about technology as a tool in the social work toolkit would be transformative."
A crucial part of preparing social workers to fully engage the future is preparing them to be critical interdisciplinary thinkers and problem solvers who can not only quickly adapt to change, but drive it, says GSSW Clinical Assistant Professor Brian Gonzales. Whether we like it or not, he says, "the metaverse is coming. Will social workers have space in this metaverse from a practice standpoint, and should we? Our industry will hurt if we don't wake up to this quickly."
Teaching Teletherapy 
Although many practicing social workers had to master teletherapy on the fly during the pandemic, virtual practice — as well as other novel uses of technology in social work — has been discussed in GSSW classrooms for several years.
During his upcoming sabbatical, GSSW Clinical Associate Professor Stephen von Merz will develop and implement a new teletherapy component for the school's Multisystemic Social Work Practice and Advocacy with Families course with the ultimate aim of applying it across the Family Systems Practice Concentration curriculum. To inform the project, he'll research the technologies and processes that community organizations are using and how well those solutions have worked. This knowledge will also be shared with the larger community via continuing education offerings.
"The charge is really to help students and community members start to look at how we provide therapy in a culturally responsive, ethical, virtual format," von Merz says. "We're looking at the entire therapeutic process," from intake and assessment to evaluation and termination. Von Merz is particularly interested in supporting rural areas of the state, where access to technology and continuing education can be limited.
Course content is only one piece of the puzzle, von Merz points out. The other is accessibility. "Attention to Universal Design for Learning (UDL) should always be at the forefront," he says, noting that accessibility is critical for clients as well as students. Although GSSW has staff to help faculty implement UDL across the curriculum, many schools still lack such resources. "Employers, deans and directors need to recognize the amount of time it takes to attend to cultural responsiveness and UDL so courses reflect the highest quality standards," von Merz says.
Learn more about how technology is changing social work practice.
Read More
Power, Privilege & Oppression in the Digital Landscape
Social workers need to consider more than just how to use technology in practice. They also need to understand how technology functions as part of larger systems and contexts, Gonzales says. "Power, privilege and oppression are evolving in the digital landscape, and students need to be versed in what that entails — for example, algorithmic bias. Oppression and bias still exist, but they're evolving."
That's the focus of Digital Justice in Social Work, a new course Gonzales piloted this fall in the school's MSW@Denver online MSW program. The course is intended to cultivate an innovation mindset and instill a nimble, flexible approach to practice, preparing social workers to adapt in an uncertain world, Gonzales says.
Students in the course pondered weighty questions such as whether access to 5G broadband should be a human right. Each student was tasked with a special project that adapted existing technologies for use in social work with the aim of increasing accessibility and inclusivity. "We're being really critical, thinking about diffusion of innovation, how it would be implemented, how people would adapt and adopt the technology for the purposes of equity," Gonzales says, noting that all 22 of his students presented marketable ideas. One conceived holographic communication that could be used by social work co-responders, putting a holographic social worker into a space that otherwise would be considered too dangerous for them to enter. Another proposed a text-based group therapy platform for youth.
"They're doing a lot of research across industries, looking beyond social work at industries ahead of us and what we can glean from them," Gonzales says.
"Social work is behind, but we have a lot to bring to the table," he adds. "We are leaders in diversity, equity and inclusion. We need to be sure we're at the table in technological development. Not only do we have the capability to do this — we have to."
Social work is at an inflection point, Singer says, noting that there is wider acceptance and adoption of technology since the start of the pandemic. "What do we need to say to new social workers so they see themselves in the technology space? That question was foundational to the grand challenge," he says. "You have all these folks who maybe default to social work ethics and values but had to be engaged in technology in the last two years in a way they never had before. We have to capitalize on that. You can be the social worker you always wanted to be and do it with technology."