Community-Engaged Courses
GSSW's new Pedagogy for Action and Community Engagement Program deepens learning and community impact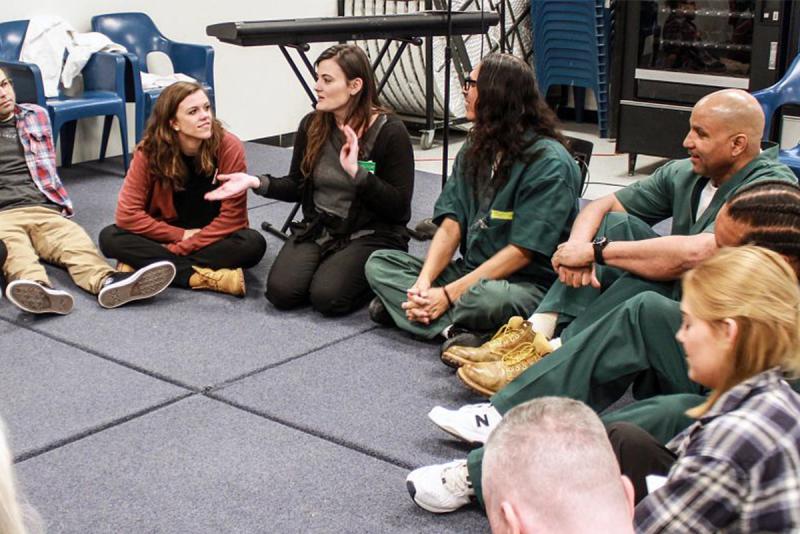 This spring, University of Denver Graduate School of Social Work (GSSW) MSW students shared a virtual classroom with 11 men who are incarcerated at the Buena Vista Correctional Complex. Offered in partnership with the Colorado Department of Corrections and DU Prison Arts Initiative, the course used performance to explore restorative justice.
The unique course was one of four supported by GSSW's new Pedagogy for Action and Community Engagement (PACE) Program offered by the school's Office of Community Engagement.
GSSW faculty have long offered community-engaged courses, but they received only modest support for the additional work such courses entail. Through PACE, faculty receive logistical support for things like issuing RFPs, selecting community partners and developing formal agreements. They also have access to stipends and help from graduate teaching assistants.
"PACE allows faculty members to be creative with their courses and think about them as community engaged when they wouldn't otherwise," says Director of Community Engagement Trish Becker-Hafnor. She says the program also allows GSSW to develop deeper, more meaningful relationships with community as the school meets emerging needs.
In the program's first year, courses focused on projects connected to needs related to the pandemic, racial justice and decriminalization.
Planning and Program Development 
One of the PACE courses was Planning and Program Development, offered in the Western Colorado MSW Program. Guided by Associate Professor of the Practice Jae McQueen, students collaborated with the West Mountain Regional Health Alliance to build programs to address impacts of the COVID-19 pandemic on the Latinx community from Parachute to Aspen, Colorado. Students reviewed a recent needs assessment completed by Pitken County and West Mountain Regional Health Alliance and selected four focus areas: housing, mental health, technology (such as digital literacy for family members schooling children during the pandemic), and food insecurity. They then created a program proposal to address that area of concern, ranging from analysis of the problem and who was impacted, to creating an organizational structure, first-year budget and even marketing materials.
"For food insecurity, they had a really creative idea for a food truck named the Compassion Café," McQueen says. "It would be mobile in that geographic area, have a pay-as-you-can structure, and would also have food boxes with culturally responsive, nutrition-dense food for community members as well." To address housing needs, the students researched grants and located an existing apartment property that could be converted into a housing co-op.
The students recently presented their ideas to the community partner, and even though the course is over and most of the students have graduated, several are returning later this summer to present their ideas to other community stakeholders. "Their commitment is incredibly strong. It was really important to them that this have impact and be meaningful," McQueen says. "The end product will make a difference in the region."
Public Impact for Policy 
PhD student Katie Calhoun, Professor Eugene Walls and Professor Kim Bender developed the new course Public Impact for Policy, Community Organizing and Research Dissemination.
"Social workers in research and practice are often called on to disseminate research but aren't given tools to do that well," Calhoun says. "We wanted to partner with a community organization knowing that getting information out to the public is often something that gets missed."
With help from the PACE Program, they issued an RFP and selected the Kempe Center as a community partner. One group of students focused on SafeCare Colorado, a voluntary support program for parents and caregivers of young children. A second group focused on a campaign to change the public dialogue around prevention of child maltreatment. They created infographics for social media, fact sheets, presentations and other materials to disseminate the prevention messaging.
Feedback students received from Kempe was helpful, Calhoun says. For instance, the organization explained the need to avoid jargon and "overintellectualizing" the material — to change language to be more inclusive. The final product was more than a class assignment, Calhoun notes. The materials they created may help keep Colorado kids safer.
Ethical Digital Storytelling 
Offered in partnership with the Longmont County Justice Partnership, the Digital Storytelling for Social Justice course was taught by adjunct instructor Ethan Crawford. Victoria Feliciano (MSW '21 Mental Health and Latinx Social Work Certificate) was a teaching assistant for the course, which she also helped to develop. During the two-quarter course, students explored the values and ethics of social work and how they aligned with digital storytelling. They also explored topics such as the origins of oral histories and storytelling traditions in Indigenous communities, as well as how Indigenous communities have traditionally used restorative justice practices. They then created their own digital stories about themselves or a close family member or friend.
"Some voices in our history books have been completely left out. Let's tell the stories we're living out and bringing voices to the table that have been unheard," Feliciano says.
Restorative Justice and Performance 
Feliciano also was a student in the Restorative Justice and Performance course, which received some funding support from PACE. "It was eye-opening. When it came to having this dialogue with the incarcerated students, we were hearing stories we could all relate to," she says. "We would assume we don't have much in common, but we learned so much in such a vulnerable way. This trust we created together, it was healing. There was so much learning."
Teaching Assistant Joan Dieter (MSW '21 Mental Health) helped to facilitate the course, which was taught by GSSW Associate Professor Shannon Sliva and theatre Assistant Professor Ashley Hamilton. As they learned about restorative justice techniques, students also explored various artistic techniques that build community. "The students were filled with so much creativity, longing and ability to create community. It's been beautiful to see everyone engage with that," Dieter says.
Each week, students volunteered to share some sort of performance — songs, monologues, poetry, visual art — about what they were learning and feeling. They shared final performances at the end of the course. Feliciano recited a Bible verse about violence and the impact of selfishness, offered in the form of a prayer, and sang a hymn. "The course taught me about the power of listening to others, and the value of love," she reflects.
"What I like about these partnerships is that they're mutually beneficial," Becker-Hafnor says. "With some creativity we can identify these sweet spots that meet community needs and help students to get real, practical experience."