Dean McBride Stepping Down
Amanda Moore McBride will return to teaching and research following seven years as dean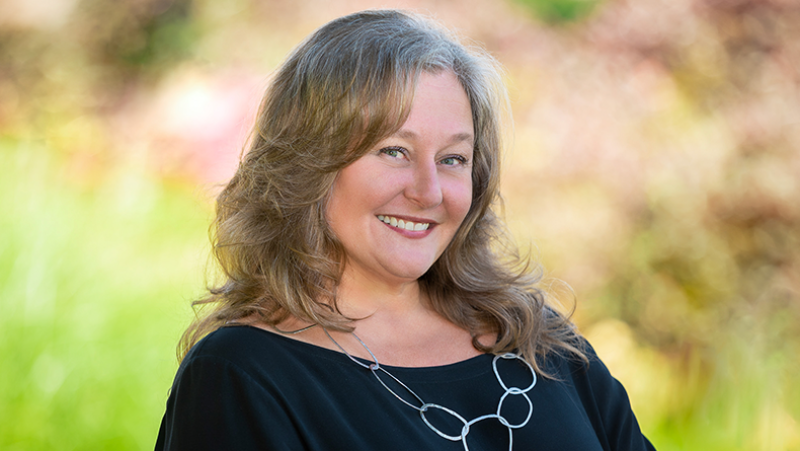 After seven years as dean of the University of Denver Graduate School of Social Work (GSSW), Amanda Moore McBride will step down from the role at the end of the 2022–23 academic year and return to the school's faculty.
"I am honored to have served GSSW and its incredible faculty and staff, students, alumni, and community these past several years, and I am proud of all we have accomplished together," McBride says. "I am looking forward to continuing my service in a different capacity as I return to teaching and research."
Provost Mary Clark shared some of those accomplishments in an announcement to the campus community. "[Dean McBride] has led the school through a period of exceptional growth, centered on values of justice, diversity, equity, and inclusion as well as community engagement and public impact," Clark wrote. "Dean McBride has also been a stalwart leader of those values on the deans' council and the university council, helping to advance the university."
Under McBride's leadership, GSSW rose in the U.S. News & World Report rankings, from 17th to 11th in the nation. The school launched its online MSW program, tripled the school's enrollment, and appointed 21 new full-time faculty. During McBride's tenure as dean, the school increased its research expenditures from $7.5 million in 2015–16 to more than $11 million in 2021–22 and raised more than $15 million to support student scholarships. GSSW also launched its Office of Community Engagement during this time, involving more than 10,000 people across Colorado and the nation in social justice issues through special events and training.
McBride says she is most proud of the school's focus on social and racial justice and prioritization of diversity, equity and inclusion (DEI). Enrollment of MSW students of color increased from 21% in 2016 to 32% in 2022; the percentage of faculty of color increased from 22% to 35% over the same period. GSSW introduced DEI performance objectives to faculty and staff annual reviews, developed a multi-year Culture and Climate Initiative, hired the school's first associate dean for DEI and supported DEI curricular initiatives across the MSW and PhD programs.
"Our commitment to social and racial justice means we are ever striving to realize our values in our teaching, research and operations. This work must and will continue," McBride says. At the same time, she notes, "We have maximized our training and scholarly impact and centered the health, well-being and belonging of the individuals connected to our school."
McBride says she is looking forward to spending more time focused on her own family and health, and on the next phase of her career.
A national search will be conducted for the next GSSW Dean; Dean Fritz Mayer at the Josef Korbel School of International Studies and Winn Professor Kimberly Bender at GSSW are co-chairing the search committee.