Outgoing Dean Amanda Moore McBride receives dean emerita recognition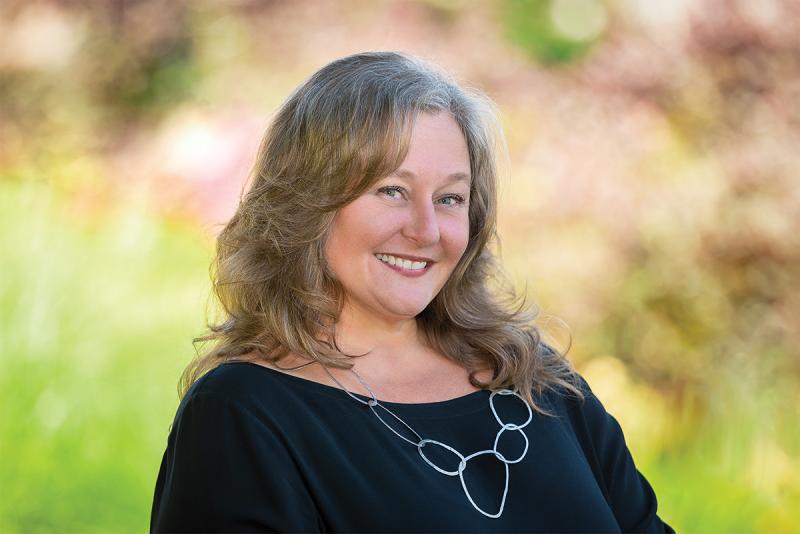 In recognition of her contributions to the Graduate School of Social Work (GSSW) and the University of Denver, outgoing Dean Amanda Moore McBride has been promoted to the rank of dean emeritus. The Board of Trustees approved the promotion, which was recommended by the GSSW faculty and the University Faculty Senate. 
"This is a deeply meaningful honor," McBride says. "Thank you to the Graduate School of Social Work and University of Denver for honoring me for what we accomplished together." 
McBride joined GSSW in 2016 as the Morris Endowed Professor and Dean and served through the end of the 2022–23 academic year. Under her leadership, the school launched a strategic planning process in 2016 that has resulted in a number of accomplishments, including: 
Improving the school's U.S. News & World Report ranking from 17th to 11th in the nation 
Introducing MSW@Denver, a 100% online MSW degree, making a GSSW education accessible to students in communities nationwide 
Tripling the school's enrollment, from around 500 students in 2016 to nearly 1,500 in 2022 
Increasing number of appointed faculty from 36 to 57 
Increasing annual research expenditures from $7.5 million in FY16 to over $11 million in FY22 
Raising more than $15 million to support student scholarships, faculty research, community engagement and the school's strategic initiatives 
McBride established GSSW's Office of Community Engagement and Catalyst Series for Social Justice, a free community event that hosts national thought and action leaders for timely discussions about critical topics, such as weight stigma and racial justice. During her tenure as dean, the school also launched its Science for Action Series — a series of workshops and lectures engaging leading scholars and policymakers around the Grand Challenges for Social Work Initiative. More than 10,000 people from across Colorado and the nation have participated in these and other GSSW events in person or online. 
Diversity, equity and inclusion (DEI) have been a priority for GSSW under McBride's leadership. GSSW appointed Associate Professor Michele Hanna as its first associate dean for DEI, launched a multiyear Culture and Climate Initiative and added DEI performance objectives to faculty and staff annual reviews. The school has also undertaken a comprehensive DEI audit of its PhD and MSW programs, which has resulted in ongoing curricular changes and additional training for appointed and adjunct faculty. For instance, the doctoral program now provides core training in a more diverse array of pedagogies and methodologies, including antiracist, feminist, and queer pedagogies and Indigenous research methods. 
Diversifying the school's students and faculty has been a strategic priority as well. Enrollment of MSW students of color increased from 21% in 2016 to 32% in 2022; the percentage of faculty of color increased from 22% to 35% over the same period. 
McBride helped to raise GSSW's national profile, solidifying its reputation as a school that centers antioppressive praxis, community engagement and public impact. The school launched an MSW concentration in Ecological Justice in 2021 — the nation's first such program in a school of social work. The Pedagogy for Action and Community Engagement (PACE) Program facilitates community-engaged courses by providing faculty with logistical support; community partners benefit from student and faculty knowledge and assistance with special projects. Hosted by McBride, GSSW's Brave Ideas for Social Change podcast draws on faculty expertise for fast-moving discussion on emerging research, practice, and policy innovations to spur social change. Most recently, the school launched the Mutual Aid Collective — a GSSW and community collaboration that explores the intersection of social work and collective care. 
During the COVID-19 pandemic in early 2020, the school had to rapidly pivot programs across three campuses to an online-only format. While addressing challenges such as transitioning hundreds of student internships to a virtual environment, the school also addressed the human needs of its community. For instance, GSSW implemented "support pods" that provided care and connection for students, faculty and staff who shared identities or interests. 
McBride will return to GSSW's faculty following a yearlong sabbatical. Associate Professor Lisa Reyes Mason will step into the role of interim dean on July 1, 2023. 
"I'm excited to welcome Professor McBride to GSSW's teaching and research faculty," says Winn Professor and Acting Dean Kimberly Bender. "I'm looking forward to collaborating with her in areas of mutual interest, such as collective care and applying futures frameworks to social work."